Instrumental Analysis Center
Instrumental Analysis Center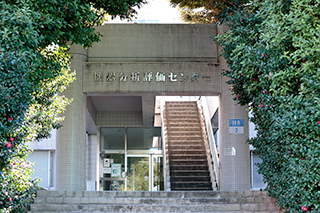 The Instrumental Analysis Center (IA Center) was established in April 1995 and combined with Radio-Isotope (RI) Educational and Research Facility (RI Facility; formally RI Center) in July 2011. The IA Center manages and operates large-size instruments for precise analysis and advanced technological needs. The RI Facility supports to conduct various kinds of experiments using unsealed radioisotopes. The IA Center promotes cooperative research among researchers and faculty members and educational development at graduate level.
At present, the Center maintains and operates the following instruments:
Electron Spin Resonance Spectrometer, Mass Spectrometer, Electron Probe Microanalyzer, Transmission Electron Microscope, Scanning Electron Microscope, X-ray Photoelectron Spectrometer, Selected Area Crystallographic Orientation Analyzing System (EBSD), Atomic Absorption Analysis Spectrometer, Fourier Transform Nuclear Magnetic Resonance Spectrometer (300 MHz, 400MHz, 500MHz, 600MHz), Hole Effect Measurement System, Universal Mechanical Testing Machine, Infrared Spectrometer, Circular Dichroic Polarimeter, Ultrafast Chemical Reaction Measurement System, Organic Elemental Analyzer, Laser Raman Spectrometer, ICP Atomic Emission Spectrometer, ICP Mass Spectrometer, X-ray Fluorescence Analyzer
RI facility can handle eighteen kinds of nuclides: 3H, 14C, 22Na, 24Na, 32P, 33P, 35S, 36Cl, 42K, 45Ca, 55Fe, 57Co, 63Ni, 125I, 131I, 131Ba, 137Cs and 204Tl. This facility provides mainly with tracer experiments in the area of Life Science under radioisotope regulation. At present, the facility maintains and operates the following instruments:
Liquid Scintillation Counter, Germanium Gamma-ray Spectrometer, Multipurpose Imaging Analyzers, Capillary DNA Sequencer and Multi-Mode Microplate Reader
The IA Center is open to all members of YNU and additionally supports guest researchers to participate in cooperative programs. The IA Center also opens to users outside of YNU in the limit of requested analysis. Additional information can be found at: Instrumental Analysis Center

.
For consultations and technical support on measurements and instrumentation usage, specialists are available for technical support in each instrument.
(Contact: Industry-University Collaboration Division)