Cooperative Research and Development Center
Cooperative Research and Development Center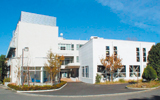 TThe Office of Industry and Community Liaison was established in April 2004, when YNU was reorganized as a public corporation in order to systematically accelerate the university–industry collaboration. The Office consists of two sections: University-Industry Collaboration Section, Intellectual Property Section.
The University-Industry Collaboration Section includes the Cooperative Research and Development Center, the Instrumental Analysis Center, and Incubation Facility.
The Cooperative Research and Development Center was established in April 1991 for the purpose of supporting and promoting cooperative researches between Yokohama National University and other organizations including private enterprises.
The center was renovated in 2001, by which the space of 908 m2 was newly added. It is now twice as large as before.
Since its establishment, the center has played a leading role for the promotion of many cooperative research projects. The main promoting activities of the center are as follows.
Joint and funded research with private companies and/or other organizations
Technical training for corporate engineers
Technological consultation and provision of academic information
Joint research with other universities
(Contact: Planning Division, General Affairs Department)