Information Technology Service Center
Information Technology Service Center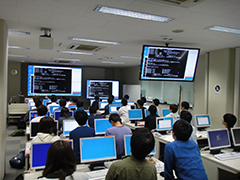 The Information Technology Service Center (ITSC) provides a convenient and secure information and communication technology (ICT) service environment for the academic community of the university. The ITSC has the Network Division and the Educational Support Division, both of which play a key role in facilitating the university's advanced educational and scientific research activities. The ITSC also has several temporary Cooperative Research Project teams, applying ICT in advanced scientific research, such as utilizing High-Definition Television (HDTV) technology as tools for distance education and learning, and using Geographic Information System (GIS) tools on an urban environment, energy and safety analysis system for its sustainable community planning. In addition, the ITSC plays an important role in the development of ICT strategies on campus.
The ITSC has upgraded its equipment in March 2010 in order to better meet the research and educational requirements of approximately 15,000 users. The ITSC currently maintains a set of computation and programming oriented UNIX servers, each equipped with multi-core 64bit high-performance CPUs, a 16GB main memory and a total of 10TB plus hard disk storage system. The ITSC has installed 280 personal computer (PC) terminals in six computer classrooms for coursework and practice sessions. In addition to these classrooms, there are fourteen satellite computer rooms at the Tokiwa-dai campus equipped with an additional 500 PC terminals, which are used mainly to support various learning programs in the College of Education and Human Sciences, the College of Business Administration, Library, etc. A new Unified Authentication System and a Portal Service have been activated in spring 2010. They have made ICT services on campus more convenient. The Web Mail System has a high level of availability and security and provides the users with safe access to their electronic mails anytime and anywhere. The system provides a multiple language interface for students and researchers from different countries. Besides, there are several web based services, such as the Learning Management System, which have been highly appreciated by the users.
The ITSC has installed a Gigabit speed network system on campus. This system consists of two high-reliability and high-performance L3 Ethernet switches. The Gigabit Ethernet backbone has a 384Gbps switching capacity and a 1 or 10 Gbps Gigabit speed redundant connection to 33 buildings on campus. In open areas such as the library and classroom buildings, access to the local area networks (LAN) is available to anyone who has an authorized user ID and password. An optical fiber network system connects the ITSC to almost all buildings on campus. The network is equipped with a series of redundant firewalls with load balancer switches and anti-virus servers to ensure network security and safety.
YNU is one of the nodes or connecting points in the third generation National Scientific Information Network (SINET3), jointly operated by the National Institute of Informatics (NII) and Ministry of Education, Culture, Sports, Science and Technology (MEXT). The ITSC plays an important role for maintaining and upgrading the communication network amongst academic, educational, and research organizations in Kanagawa Prefecture. It is expected that the importance of the ITSC in this field will continue to grow and will gain further prominence in the future.
(Contact: Information Technology Service Center)