Center for Oceanic Studies and Integrated Education
Center for Oceanic Studies and Integrated Education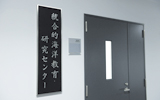 Center for Oceanic Studies and Integrated Education (COSIE) is a unique ocean-related academic institution in Japan, which consolidates wide-ranging educational and research activities about the oceans and coasts into a coherent framework.
Nearly 40 scholars have long performed ocean-related education and research here at YNU. Formerly however, they were dispersed into relatively small groups or individuals in different schools and departments, and thus have been deprived of opportunities for interdisciplinary relations across the administrative and research boundaries.
In order to overcome this deficiency, the Center provided them with a forum to integrate all the human resources in the university so as to promote interdisciplinary research and education regarding ocean and coastal affairs, encompassing science, technology, engineering, environment as well as law, policy, economics and other social sciences.
The Center was established in 2007, and has been offering a broad curriculum linking the core program of integrated ocean and coastal management with other related programs for graduate students interested in marine affairs.
The core education program, "Integrated Ocean and Coastal Management" (prerequisite) broadens student's general perspective on marine affairs. Students major in a specific marine related discipline (electives), and are trained in the areas of policy studies, social sciences, natural sciences, and engineering. They are awarded a minor graduate degree in "Integrated Ocean Management".
The Center also organizes symposia, seminars, and workshops open not only to our students and faculty but also to anyone from outside the university who is interested in marine affairs. In addition, the Center promotes good relations with the neighboring community of Yokohama and the Tokyo Bay area by offering some outreach activities for the interested public to enrich citizens' and particularly next generation's understanding of the oceans.
(Contact: Research Promotion Division)