Dalian University of Technology (China) Visited YNU
Dalian University of Technology (China) Visited YNU
On Tuesday, August 4, 2015, Dalian University of Technology (DUT, China) Professor Quan Xie and other 3 faculty members visited YNU.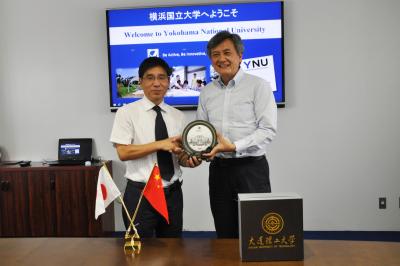 Prof. Xie Quan (Left) and Pres. Hasebe
DUT is a partner university to have had active exchanges so far. The delegates came to Japan to give presentations in "YNU International Symposium 2015 Water Environment Management -Advanced wastewater treatment, WET and ecological risk assessment," which was held on Monday, August 3, the very prior day.
They visited the President's Office to be welcomed by President Yuichi Hasebe, Executive Director Fumihiko Nakamura, Faculty of Environment & Information Sciences Professor Shigeki Masunaga, and International Office Manager Ms. Yoko Ito. In a friendly atmosphere, the attendees exchanged opinions on some new organizations and education programs of the both universities. After that, the delegates made a campus tour.
The relationship between DUT and YNU continues to be enriched with such an opportunity, for example.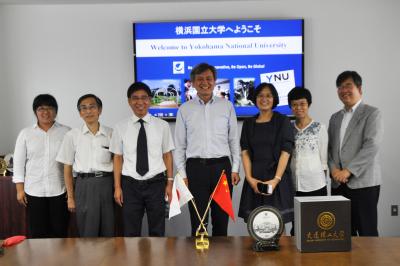 Commemorative Photo: Dr. Ying Zhang, the right next to Pres. Hasebe (Center) is YNU alumna.