New Mongol Academy (Mongolia) Visited YNU
New Mongol Academy (Mongolia) Visited YNU
On Thursday, November 12, 2015, President Janchiv Galbadrakh, New Mongol Academy (Mongolia), and Mrs. N. Oyuntulkhuur, Mongolia Khuree Rotary Club visited YNU. Shine Mongol High School which was established in 2000 with the devoted support by some interested Japanese has been expanded to New Mongol Academy to include its middle school, elementary school, New Mongol Technique Engineering College, and New Mongol Institute of Technology. In October, New Mongol Academy celebrated its 15th anniversary in Ulan Bator and President Hasebe attended the memorial ceremony.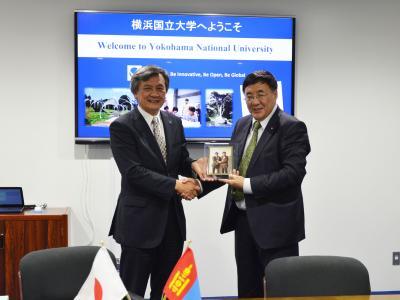 President Galbadrakh (Right) and President Hasebe
The delegates visited the President's Office to be welcomed by President Yuichi Hasebe, Executive Director of International Affairs Fumihiko Nakamura, and International Office Manager Ms. Yoko Ito. Last year YNU signed an academic exchange agreement with New Mongol Institute of Technology and accepted Shine Mongol High School students this summer with support by JST Japan-Asia Youth Exchange Program in Science "SAKURA Exchange Program in Science" to produce the good result of frequent exchanges. The two universities discussed on their co-works to focus on acceptance of students from New Mongol Academy to YNU. Stronger relationship and further frequent exchanges between the two universities would be fostered with this visit.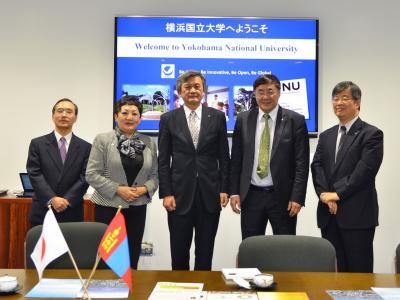 Commemorative Photo