Professor Toshi-ichi Tachibana of University of São Paulo (Brazil) visited YNU
Professor Toshi-ichi Tachibana of University of São Paulo (Brazil) visited YNU
On October 11th Tuesday, 2016, Professor Toshi-ichi Tachibana of University of São Paulo visited YNU.
Professor Tachibana is a YNU graduate of Graduate School of Engineering. YNU has given Professor Tachibana a title of Professor Emeritus in 2010 in honor of all his effort for various fields of student exchange and development of the relationship between the universities over the year.
Professor Tachibana was welcomed by President Hasebe, Executive Director and Vice President Fumihiko Nakamura, Professor Emeritus of Faculty of Engineering Tsugukiyo Hirayama and International Office Manager Tomoko Takeuchi at the president office. It was the first opportunity for Professor Tachibana to visit President Hasebe.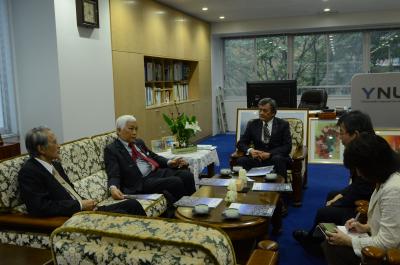 At the meeting
As looking back on the history that the both universities have been through, they discussed the possibilities of the further student exchange. Moreover, a variety of topics were brought up and discussed such as the current world situation and the future prospect.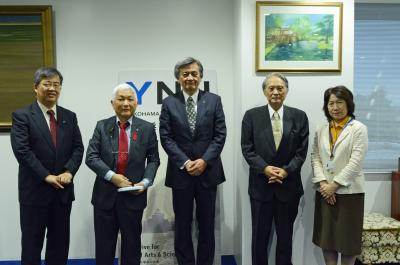 Professor Tachibana (Second from the left) President Hasebe (Center)
We hope this visit will strengthen the relationship between University of São Paulo and YNU.