Dalian University of Technology (China) visited YNU
Dalian University of Technology (China) visited YNU
On October 18th Tuesday, 2016, Executive Dean of Graduate School Professor Xiangpei Hu, Vice Dean of School of Business Professor Xuping Wang and School of Management Science and Engineering Associate Professor Lijun Sun from Dalian University of Technology visited YNU.
Dalian University of Technology and YNU have continued to strengthen their relationship through activities and programs since signing the academic exchange agreements between the two universities in 2009. In fact, YNU cooperated with Dalian University of Technology as a secretariat, which organized The 10th Meeting of the Port-city Universities League Seminar held in September as a host university.
The guests were welcomed by President Yuichi Hasebe, Professor of Faculty of International Social Sciences Peijun Guo, Professor of International Strategy Organization Haoyuan Xu and International Office Manager Tomoko Takeuchi.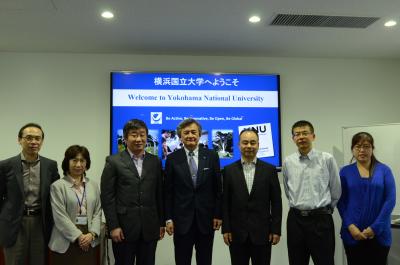 Prof. Hu (Third from the left), Prof. Wang (Third form the right), Assoc.Prof.Sun(Right)
The participants discussed the possibilities of cooperative activities such as student exchanges and research in the specialized fields with a friendly atmosphere.
At the meeting
We hope this visit develop the relationship between Dalian University of Technology and YNU.
(担当:国際戦略推進機構)