University of International Business and Economics (China) visited YNU
University of International Business and Economics (China) visited YNU
On November 1st Tuesday, 2016, a delegation of professors and staff from University of International Business and Economics (UIBE) headed by Vice-President Zhang Xinmin visited YNU. It became the first opportunity in a while for Vice-President Zhang to meet YNU Executive Director and Vice President Fumihiko Nakamura again.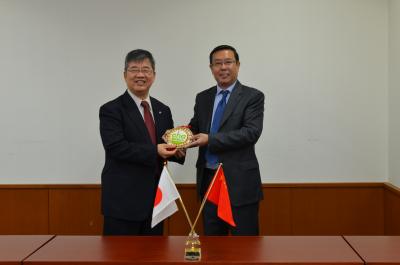 Left) Executive Director Nakamura Right)Vice-President Zhang
UIBE and YNU signed the academic exchange agreement in 2012 and set a YNU international branch at UIBE in 2014 as an international cooperative hub in Beijing area.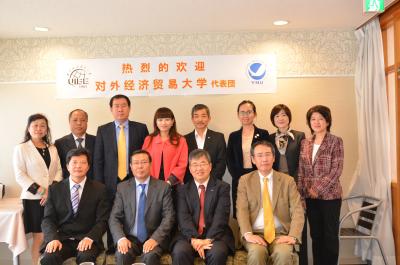 Commemorative photo
The delegates firstly visited International Student Center. Professor Yoshimi Ogawa from Japanese Education Section explained Japanese programs and the learning situation of the international students. Then, Professor Ogawa showed them around the Center and led the group to the classrooms for an observation. They also visited YNU museum to see YNU history with the displayed reference materials and asked questions from time to time.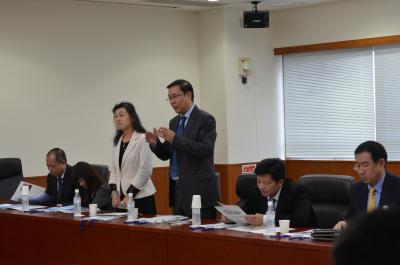 At the meeting
The courtesy visit was made at Administration Bureau Meeting Room 1. Executive Director Fumihiko Nakamura, Dean of Faculty of International Social Sciences Professor Taro Akiyama, Dean of College of Economics Professor Yasushi Nakamura, Director of International Strategy Section Professor Hiromi Kabashima, Associate Professor Ying Sun from Faculty of International Social Sciences, International Office Manager Tomoko Takeuchi and 2 International students from UIBE welcomed the delegation from UIBE.

At Meeting Room1
The meeting started with the information exchange about Social Science programs of undergraduate and graduate schools. Then the participants lively discussed about the short programs such as Summer Program, the student exchange at undergraduate and graduate schools levels, besides the cooperative activities between the universities.

It is expected that this visit will facilitate to strengthen the relationship between UIBE and YNU.