University of Malaya Delegation Visited YNU
University of Malaya Delegation Visited YNU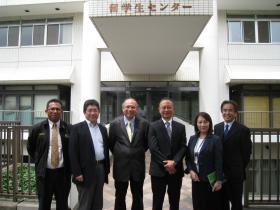 With Professor Mohammad Redzuan Othman and Dr. Zakaria Mustafa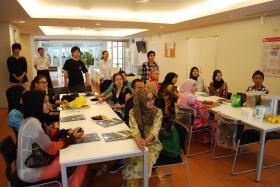 An exchange meeting with 13 UM students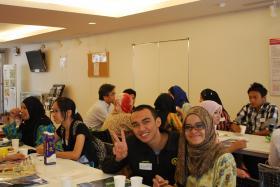 From this autumn the two students of the front will study at YNU as exchange students!
Two senior academics from University of Malaya (UM) visited YNU on June 15. Professor Mohammad Redzuan Othman, Dean of Faculty of Arts and Social Sciences, and Dr. Zakaria Mustafa, Head of Department of East Asian Studies were welcomed by Professor Ichiro Araki, Special Advisor to the President, Professor Hisayoshi Miyatake, International Relations Coordinator, Professor Shohei Yoshida, Coordinator of the Short-term Exchange Programme and Mrs. Yoko Ito, Head of the International Division, of YNU. UM, the oldest and largest university in Malaysia, and YNU signed an MOU in February 2011.
On June 20, Dr. Zakaria Mustafa visited YNU again with 13 students from his Department. They were greeted and taken around for a campus tour by a group of YNU students and took part in an exchange meeting also attended by YNU students and YNU Citizen Volunteers.
(Educational Affairs Division, Student Affairs Department)