Red Sea University makes a courtesy call to YNU
Red Sea University makes a courtesy call to YNU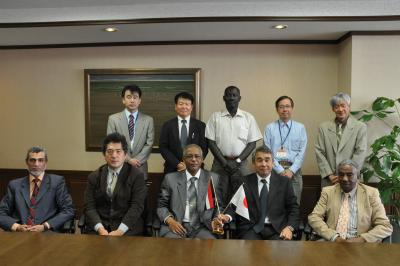 Dr. Mohamed E. Hamza and President Suzuki hold national flags with their hands.
On October 7th (Fri.), 2011, the Red Sea University Vice-Chancellor Mohamed El-amin Hamza, Dr. Ahmed Abdelaziz(Dean, Post Graduate Studies and Research Deanship)and Dr. Abdelmoneim Karamalla made a courtesy visit to YNU. The party was staying in Japan to participate in "A Study of Human Subsistence Ecosystem in Arab Societies", a project of Research Institute for Humanity and Nature (Kyoto), and came to YNU to exchange the ideas on marine researches (coastal environment conservation, nearshore communities, anthropological study and mangrove) with President Kunio Suzuki who is renowned for his research of mangrove vegetation.
Later, the party participated in the international forum "Sustainable Resource Management of Coastal and Marine Ecosystems" hosted by YNU's G-COE Program, "Global Eco-Risk Management from Asian Viewpoints", and delivered a special lecture at Graduate School of Environment and Information Sciences.