YNU Alumni Reunion held in São Paulo
YNU Alumni Reunion held in São Paulo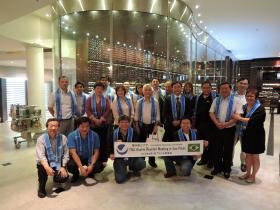 On Tuesday, September 9th, 2014 YNU Brazil Alumni Reunion was held at São Paulo.
This time reunion was attended by a total of 20 participants including YNU alumni and the related administrative staff who made it a very successful and memorable event.
The YNU headquarter was represented by Vice-President Hitoshi Yamada and International office Section Chief Mr. Kuninobu Ide and Mr. Shigeki Okada, YNU student of Graduate School of Engineering who is currently studying at University of São Paulo on Japan Public-Private Partnership Student Study Abroad Program (TOBITATE! Young Ambassador Program), also joined the event.
The reunion held in a friendly atmosphere was a chance for the alumni to discuss each other situation on their current university and exchange the reminiscences of Yokohama.
At the end of the meeting, Vice President Yamada presented the memento to Professor Toshi-ichi Tachibana of University of São Paulo (YNU Professor Emeritus) with gratitude for his contribution to the class reunion activity so far.
From now on, Professor André Riyuiti Hirakawa of University of São Paulo, the president of Japanese Government Scholarship Recipients Association (ABMON) who graduated the Doctoral course of YNU Graduate School of Engineering is going to replace Professor Tachibana as a chairperson of YNU alumni reunion in Brazil.
It is expected that YNU alumni reunion activity in Brazil becomes more and more prosperous in the future.