YNU Reunion Held in Jakarta (Indonesia)
YNU Reunion Held in Jakarta (Indonesia)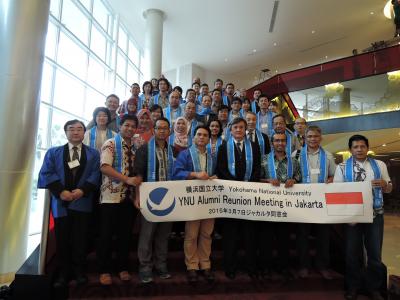 On Saturday, March 7th, 2015 YNU Indonesia Alumni Reunion was held at Sana Sini Restaurant (Pullman Hotel), Jakarta.
From YNU, Vice President Hitoshi Yamada, Professor of Faculty of International Social Sciences and Director of Information Technology Service Center Yuichi Hasebe, who is elected as YNU president from April 2015, Faculty of International Social Sciences Professor Osamu Koike, Faculty of International Social Sciences Professor Yoshiki Matsui, Faculty of International Social Sciences Professor Keiichi Yamazaki, International Strategy Organization Professor Yoshimi Ogawa, Faculty of International Social Sciences Assistant Professor Shresta Nagendra, International Office Manager Yoko Ito and General Affairs Division Personnel and Labor Affairs Senior Specialist Saori Okafuji were present at the event.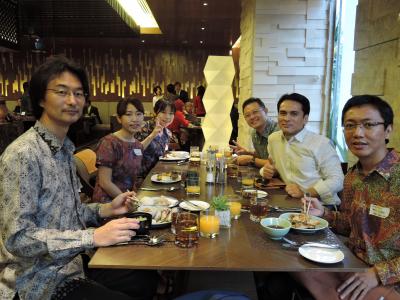 The reunion party was started with presiding of Professor Yamazaki and greeting of Vice President Yamada, then gave a toast by Professor Tjiptoherijanto Prijono of University Indonesia.
The reunion welcomed 45 participants; among them there are more than 10 Japanese alumni who play vital part in Jakarta as the residents of the Japanese companies.
They enjoyed the communication with the Indonesian alumni, shared their good memories in Yokohama and exchanged their recent situations.
During the party, the current situations and performance of YNU were presented through YNU professor and staff, a pleasant talk was continued in a friendly atmosphere.
In the second half of the reunion, the announcement for an Indonesian Alumni Association chairperson was announced. Mr. Nufranza Wira Sakti was handed a baton from Mr. Ampri Irfa. At the same time, Mr. Kenichi Usui was recommended to a local Japanese Alumni Association chairperson.
At the end of the party, Professor Hasebe introduced Yokohama National University Alumni Association (KOYUKAI), which was established on Oct. 25th, 2014 for strengthening a crossing bond beyond age, nationality, faculty, school, academic or administrative staff but all YNU related people. He commented that YNU would strengthen the network among Japanese and foreign alumni from now on, and such reunion was a good opportunity to exchange information and develop useful activity for them.
After closing the session, the next meeting was promised, and a commemorative photograph was taken.
We hope that the bond among alumni was strengthened and the alumni network in Indonesia further expanded by the event.