YNU Reunion Held in Taipei (Taiwan)
YNU Reunion Held in Taipei (Taiwan)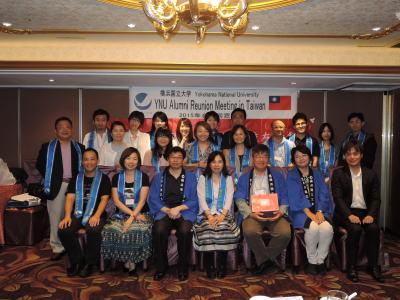 On Sunday, July 19th, 2015, YNU Taiwan Alumni Reunion was held at JADE-Shanghai Cuisine (COSMOS HOTEL), Taipei.
Beside 17 alumni attendances, Associate Professor Wu Pei-Chen, Graduate Institute of Taiwanese Literature, National Chengchi University was invited to the reunion.  From YNU, Executive Director of International Affairs and Public Relations Fumihiko Nakamura, Professor of International Strategy Organization Chie Yomota, Section Chief of International Office Eiji Kotani and Administrative Staff of Public Relations Masashi Daimaruya were present at the event.
The reunion party was started with greeting by Executive Director Nakamura, then YNU Taiwan Alumni Chairperson Mr. Chou I Hsien gave a toast.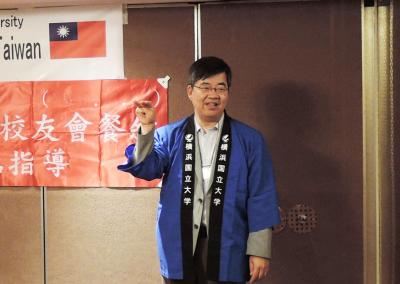 During the party, all the alumni made a self introduction individually and shared their good memories in YNU, likewise the recent situations where the communication in a friendly atmosphere.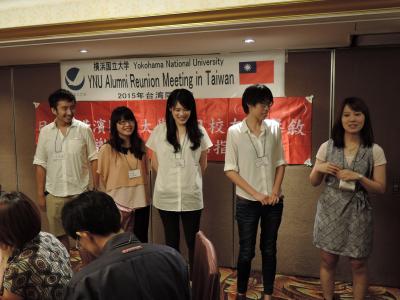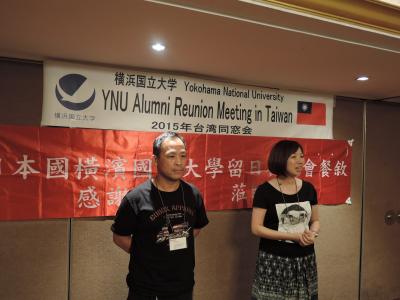 Besides, an election for the new chairperson of YNU Taiwan Alumni Association was held. Ms. Chang Hsin-Wen was elected for the chairperson and Mr. Lin Chu-Yin for a vice –chair unanimously. They greeted, "We would like to hold YNU Taiwan Alumni reunion successively and strengthen the network among us.
Ever since Taiwan alumni reunion was held in July 2012, almost 20 participants were welcomed in this opportunity and it has ended successfully.
Though it has been 3 years of interval since the previous event, the exchanges among alumni have been actively continued. For this reason, the Taiwan alumni expect more exchanges among themselves and a firmer network with YNU as same as alumni themselves.
YNU would support the Taiwan alumni activities due to meet their expectations.