YNU San Francisco Bay Area Alumni Association Kicks Off!
YNU San Francisco Bay Area Alumni Association Kicks Off!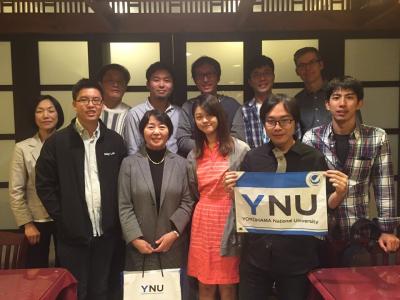 On Saturday, September 12, 2015, a San Francisco Bay Area YNU Alumni Reunion preparation meeting was held in the city of Millbrae, California, U.S.A. halfway between San Francisco and Silicon Valley. International Strategy Organization Professor Masahito Watanabe, Professor Yukiko Tashima, and Associate Professor Hisami Andrade from YNU were present at the event. This meeting was planned by Associate Professor Andrade.
With the support of the YNU Alumni Union, the meeting was announced by the local media and seven alumni were able to attend. In addition, Ms. Fukushima, a YNU undergraduate student who has been studying at San Jose State University under the student exchange program, also joined the meeting. Along with two ex-exchange students, the alumni attendees represented almost all of the YNU colleges, including Education and Human Sciences, Economics, and Business Administration, as well as the Graduate School of Engineering and Business School. The meeting succeeded in establishing a firm base from which we hope to develop a flourishing alumni network.
The meeting was held at a Japanese restaurant named "Bashamichi." As the co-owner comes from Bashamichi in Yokohama, it was indeed a happy coincidence that it served as the venue for this gathering of YNU people! The meeting started with self-introductions as it was the first time for nearly all the alumni to meet. The atmosphere was friendly and lively from start to finish.
Mr. Azusa Kawahara, who graduated from the College of Education and Human Sciences, was assigned to be the key person to search for more YNU alumni around the San Francisco Bay Area. Further expansion of the YNU alumni network in this area is expected. The members promised to hold a larger alumni reunion event next time with invited guests from YNU, including the YNU president and vice-president.