YNU Cambodia Alumni Reunion was held in Phnom Penh
YNU Cambodia Alumni Reunion was held in Phnom Penh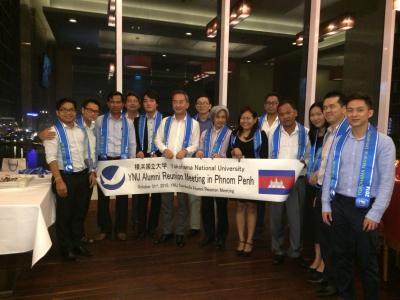 On Saturday, October 31th, 2015, YNU Cambodia Alumni Reunion was held in Phnom Penh. 12 Cambodian alumni, Dean and Professor of College of Business Administration Hiroshi Morita, Professor of College of Education and Human Sciences Norimichi Akagi and Associate Professor of Faculty of International Social Sciences Hidenori Sato attended this event.
YNU Cambodia Alumni are mainly consisted of graduate students who completed 'Transition Economy Program/Japan IMF Scholarship Program'which was established at International Graduate School of Social Sciences. This program was implemented with the cooperation of International Monetary Fund (IMF) in 2001 when'Law and Public Policy Course'was established at the graduate school under the cooperation of Japan International Cooperation Agency (JICA).
For international students, these programs were expected to contribute to economy, finance, development of law, and political practices in their home countries, and today many of whom are playing active roles in their governments, and financial institutions after completing the programs.
While the majority of the alumni are working at the government related institutions, some are employed at the private sectors, whose vitality has been leading to development in Cambodia.
Cambodian alumni have been keeping up a close contact each other utilizing the network which was built up since their studying at YNU. At the reunion, they enjoyed a lively conversation about YNU professors who had taught them and shared both their professors' strict instructions and good memories about Japan. Some of them said that they would like to recommend YNU to study in Japan.
The alumni miss Japan even now, they would like to visit Japan again and hold the reunion there. Before ending the reunion, all the participants wore YNU stoles, and took a commemorative picture.
The network of the Cambodian alumni is expected to grow more in the near future.