YNU Thailand Alumni Reunion was held in Bangkok
YNU Thailand Alumni Reunion was held in Bangkok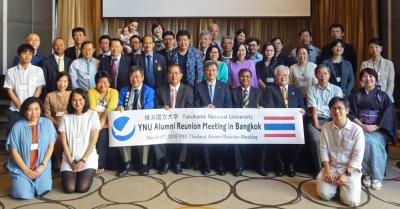 On March 6th, 2016 (Sun.), YNU held an alumni reunion meeting in Bangkok, the capital of Thailand. This was the second alumni reunion meeting held in Bangkok, and almost 30 graduates from various faculties of YNU attended. From YNU, President Yuichi Hasebe, Vice-President and Executive Director(International Affairs and Public Relations )Fumihiko Nakamura, Professor and Deputy Executive Director for International Strategy Organization Hiromi Kabashima, Assoc. Professor of the International Strategy Organization Hisami Andrade, and YNU International Office administrative staff Nao Arimitsu attended.
In his opening words, President Hasebe noted that "One of the features of the YNU Alumni Meeting is the fact that not only the international students from the host country, but also many Japanese YNU alumni working in that country attend the meeting. Additionally, with guests from related institutions and partner universities of the country attending, this creates a strong network between the parties which would not have a chance to meet otherwise. With this network, each party should surely expand their field of activities."
YNU also welcomed many guests to this alumni reunion meeting,
Embassy of Japan in Thailand Division of Japan Information Service Director Mr. Shigeki Kobayashi,
Japan Student Services Organization Thailand Office Educational Advisor Mr. Chuenkrathok Nuntaportn,
Old Japanese Students' Association Thailand President Mr. Samran Chodeingn
Attended.
From YNU's partner universities,
President of Prince of Songkla University Mr. Chusak Limsakul,
Thai-Nichi Institute of Technology President Mr. Bandhit Rojarayanont and Lecturer, Office of the President Mr. Koichi Mizutani,
Chulalongkorn University Dean of Department of Urban Planning Ms. Khaisri Paksukeharern and Faculty of Economics Mr. Ukanda Lewis,
Thammasat University Professor of Faculty of Engineering Mr. Virote Boonyapinyo attended, and exchanged views for future academic and student exchange with YNU.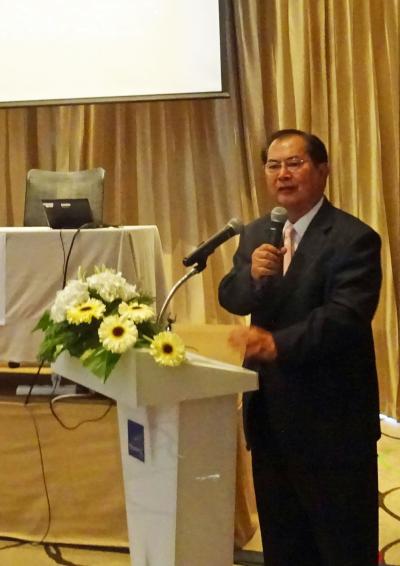 Being one of the leading countries of Southeast Asia, Thailand has been increasing its presence within the international economy. Currently many of YNU's graduates are acting in key positions in the Thailand government and firms in Thailand, and each of the attendants spoke of their work and achievements during the self-introduction session.
Additionally, Mr. Thanong Bidaya, former Minister of Finance in the government of Thaksin Shinawatra, former Chairman of Thai Airways International Public Co., Ltd. , and currently Chairman of Thai Tap Water Public Company limited and also President of YNU Alumni spoke of his memories in YNU, and his accomplishments while working in Thailand.
The attendees took this opportunity to catch up with former schoolmates and teachers, and recall the good memories of their days at YNU.