Professor Hitoshi Yamada(Faculty of Urban Innovation)Was Awarded an Honorary Doctorate by University of Da Nang
Professor Hitoshi Yamada(Faculty of Urban Innovation)Was Awarded an Honorary Doctorate by University of Da Nang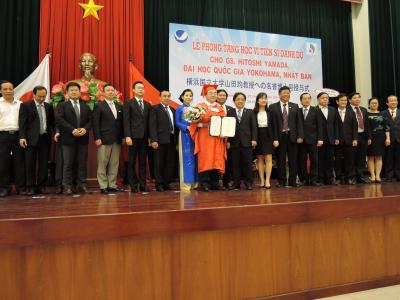 On March 22nd, 2016, an awarding ceremony for the presentation of the Honorary Doctorate Degree from Da Nang University, Vietnam to Professor Hitoshi Yamada, Faculty of Urban Innovation, was held grandly and gorgeously.
Professor Yamada has instructed many Vietnamese foreign students until present and has taught more than ten doctorate students. In addition, Professor Yamada made the opportunity of academic exchange between YNU and Da Nang University and concluded the agreement between Da Nang College of Engineering and YNU in 2010.
On May 2011, YNU concluded the exchange agreement with Da Nang University, which is upper part organization of Da Nang College of Engineering when Professor Tran Van Nam took office as chancellor of Da Nang University.
From this occasion, YNU and Da Nang University were able to interchange in all academic fields such as Economics, Business Administration, Education, Foreign Language and Information Technology in addition to the field of Engineering.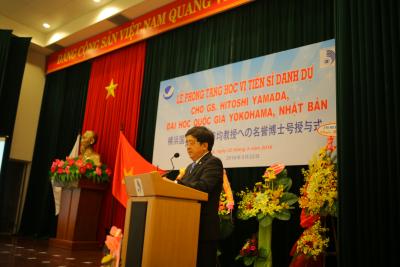 Chancellor Nam was impressed by the contents of educational research of YNU Center for Risk Management and Safety Sciences when he visited YNU for the conclusion of exchange agreement, and he established the Center for Risk Management and Safety Sciences at Da Nang University. In this way, YNU and Da Nang University has established a strong collaborative relationship for many years.
Additionally, YNU installed YNU-UD International Branch at Da Nang University as the first overseas research and education study base in June, 2014 and it plays an important role as a headquarters in Vietnam for interchange promotion of both universities, and also to increase the recognition of YNU. Dr. Le Anh Tuan, who was a student of Professor Yamada at YNU, and presently branch manager of YNU-UD International Branch, put his efforts for interpreting for Professor Yamada at this awarding ceremony.
Professor Yamada delightfully spoke that he felt as if Da Nang was his second hometown. Then, he introduced a message from President Yuichi Hasebe, and spoke that he owes today's honor to Da Nang University and YNU. Also, he noted that he wanted to spread this collaboration to the younger generation so that this honorable relationship would permanently continue in the future.
In the Da Nang University, honorary doctorate degrees have been conferred to five foreigners until now, and Professor Yamada is the first Japanese who was conferred the degree.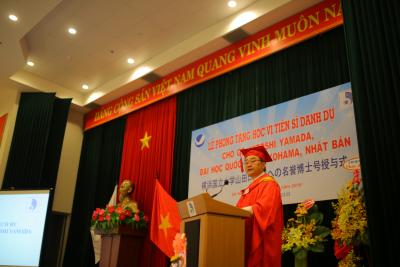 This ceremony was widely reported on the Vietnamese newspaper.