YNU Mongolia Alumni Reunion in Ulaanbaatar was held
YNU Mongolia Alumni Reunion in Ulaanbaatar was held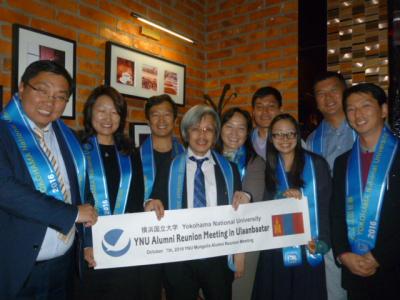 On October 7th, 2016 (Friday), YNU Mongolia Alumni Meeting in Ulaanbaatar was held.
8 Mongolia Alumni and Shine Mongol Academy Center for Career Development Ms.Chie Imai participated in this meeting. From YNU, Professor of College of Education and Human Sciences Norimichi Akagi, International Office Staff Mayumi Waki and Social Sciences Administration Office Staff Miwa Ohnishi attended.
After the opening words from Mongolia Alumni Chairperson Benchinsuren Byambajav, the participants enjoyed a friendly conversation about their current situations and their good memories at YNU.
On October 8th and 9th, some Mongolia Alumni supported "Study in Japan Seminar in 2016 in Mongolia" to recommend YNU to the students who wish to study in Japan.
It was a very beneficial meeting for both Mongolia Alumni and YNU faculty and administrative staff. The Alumni network in Mongolia is expected to expand in the future.