YNU Vietnam Alumni Reunion in Hanoi was held
YNU Vietnam Alumni Reunion in Hanoi was held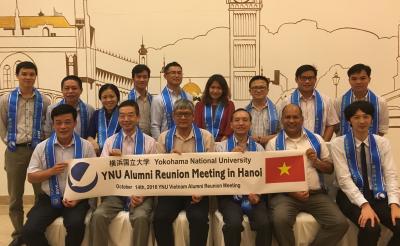 On October 14th, 2016 (Friday), YNU Vietnam Alumni Meeting in Hanoi was held.
11 Vietnamese alumni and 2 Japanese alumni participated in this meeting. From YNU, Professor of Faculty of Engineering Kazuyoshi Ueda, Associate Professor of Faculty of International Social Sciences Shrestha Nagendra and Student Affairs Department Section Chief Kouji Yonemura joined.
This meeting was organized mainly by Hanoi Alumni Chairperson Dr. Eng. Nguyen Ngoc Dun, the second international student who enrolled in YNU from Vietnam and Hanoi Alumni Office Dr. Eng. Pham Hoang Kien, Head of Section of informatics in Civil Engineering in University of Transport and Communications. In addition, YNU Branch Officer in University of Da Nang Le Anh Tuan attended the event.
During the party, the participants exchanged their recent situations and had a lively conversation about their studying at YNU and their good memories of Japan. Besides, YNU professors and staff shared the current situations of YNU and a pleasant talk was continued in a friendly atmosphere.
Then, each participant affirmed the importance of relationship and they mentioned their hope that exchange among Alumni will become more active and more Alumni participants will join in the next Alumni meeting.
At the end of this meeting, the commemorative photos were taken with all the participants wearing YNU stole. The Alumni network in Vietnam is expected to develop further in the near future.