YNU Indonesia Alumni Reunion in Jakarta was held
YNU Indonesia Alumni Reunion in Jakarta was held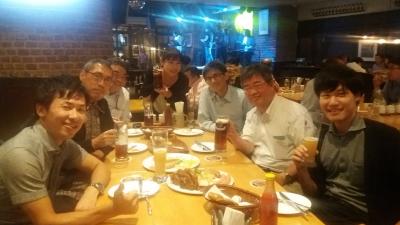 On November 23rd, 2016 (Wednesday), YNU Indonesia Alumni Meeting in Jakarta was held at Paulaner Bräuhaus, which was the second meeting for Indonesia Alumni in this year.
A total of 7 participants attended this reunion including Vice President and Executive Director Fumihiko Nakamura who stayed in Jakarta for his research at that time.
During the meeting, Vice President and Executive Director Nakamura explained about Transjakarta which is a Bus Rapid Transit (BRT) system in Jakarta, Indonesia. The system rooted in TransMilenio which is a BRT system that serves Bogotá, the capital of Colombia which was inspired by Curitiba's Rede Integrada de Transporte (Integrated Transportation Network) in the capital and largest city of the Brazilian state of Paraná.
All the participants enjoyed a lively conversation especially about Transjakarta in a friendly atomosphere.
The attendees took this opportunity to listen to the current university situation from Vice President and Executive Director Nakamura and remembered their good memories of their days at YNU.
Then, next event is fixed as follows;
○YNU Golf competition
Date: January 29th,2017 (Sunday)
Place: Pondok Cabe Golf & Country Club, Tangerang, Banten Province
If you would like to participate in the above event, please contact directly to Ms.Wakatsuki.
E-mail: ayumi.wakatsuki★sakura-system.co.id
★ of above e-mail address is image, please enter @ manually when you send the e-mail.
*This Alumni meeting article was published in a newspaper "The Daily Jakarta Shimbun" dated November 29th, 2016.