YNU Shanghai Alumni Reunion was held in Shanghai
YNU Shanghai Alumni Reunion was held in Shanghai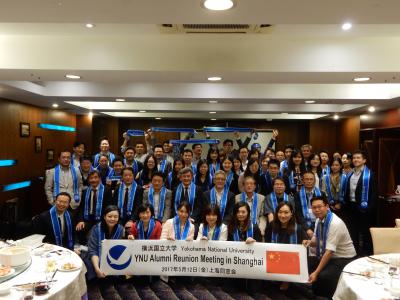 On Friday, May 12th, 2017, YNU Shanghai Alumni Reunion was held in Shanghai, China. Total 60 attendees joined the reunion including 51 alumni and President Yuichi Hasebe, Prof. Yasushi Nakamura Dean of College of Economics, Prof. Toshio Hara Dean of College of Business Administration, Prof. Midori Kizaki from College of Economics, Prof. Hiroyasu Yachi and Prof. Takeshi Arthur Thornton from College of Business Administration, Executive Advisor to the Executive Director and Prof. Xu Haoyuan from International Strategy Organization and Deputy Manager Hiroshi Inoue from International Office.
As well as alumni and YNU faculty and staff, Dr. Liu Qing-Bin, Manager of YNU Branch at University of International Business and Economics, Ms. Huang Xiaojie, Japan and other Asian Countries, coordinator, International Exchange and Cooperation Office of Tongji University and Mr. Nobuaki Saito, Chief Representative of Shanghai Office of YOKOHAMA City also joined this reunion and it became a lively alumni association party.
The reunion party started with President Hasebe's greetings. Then followed by a greeting toast by Prof. Ning Ma from Shanghai Jiao Tong University who is a graduate of YNU and also Distinguished Professor of Institute of Advanced Sciences in YNU, the participants talked about the recent situation one by one. After that, President Hasebe did presentation about Internationalization of YNU and Dean Nakamura and Dean Hara respectively reported about the recent movement of each department. In the middle of the party, a letter of appreciation and a memorial gift was presented by President Hasebe to each company that cooperated in the Shanghai and Overseas Internship Program which YNU conducted from February 19th to March 4th, 2017.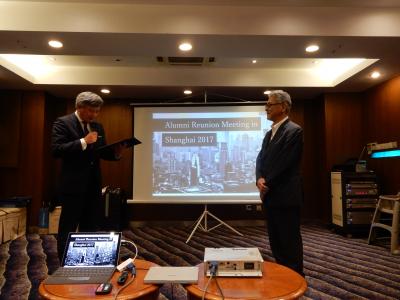 In the subsequent talks, participants came up with living in Japan and stories memorable during study in YNU. Also, participants listened to YNU faculty and staff about the recent situation of YNU, and they had a chat in a peaceful atmosphere from beginning to end. Reconfirming the importance of connecting each other, participants discussed the ambition to gather more alumni at the next reunion party by actively interacting with other alumni people. At the end of the alumni association, everyone wore YNU stall and took a commemorative photo, and at the closing time, President Hasebe saw all participant off one by one. It is expected that this alumni reunion brings the further expansion of the Alumni Association network in Shanghai.
Finally, a lot of support and cooperation from the local alumni was given in organizing and preparing this alumni association. We would like to express our gratitude to all here.