YNU Indonesia Alumni Reunion in Jakarta was held
YNU Indonesia Alumni Reunion in Jakarta was held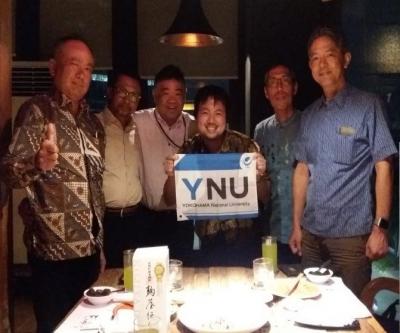 On July 26th, 2017 (Wednesday), YNU Indonesia Alumni Meeting in Jakarta was held at Japanese Restaurant Endo with 6 alumnus.
This time, Mr. Morishima who temporarily return to Japan during Levalan Holiday came back to Jakarta with Japanese sake "Yokokokudai" produced by YNU. He visited YNU on his temporary return and bought it for alumnus in Indonesia. Attendees enjoyed talking about club/circle activities and YNU cafeteria menu of their campus days and looked at the campus photos that Mr. Morhishima took at YNU while participants fully enjoyed "Yokokokudai".
YNU Indonesia Alumni plans to organize a golf competition and social gathering in near future.If you are YNU alumni in Indonesia, please contact directly to Ms.Wakatsuki.
E-mail: ayumi.wakatsuki★sakura-system.co.id
★ of above e-mail address is image, please enter @ manually when you send the e-mail.