YNU Shanghai Alumni Reunion was held
YNU Shanghai Alumni Reunion was held
On Friday, January 15th, 2021, the first ever alumni event of YNU, YNU Shanghai Alumni New Year Reunion was conducted online and offline. A total of 50 attendees joined the reunion party.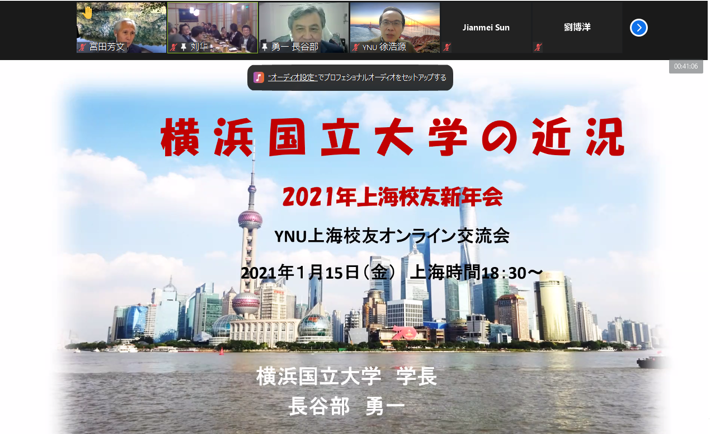 The offline meeting was held in a Japanese restaurant in Shanghai, China, with 20 alumni present, and 30 alumni, guests, faculty and staff members including President HASEBE Yuichi, Vice-President KABASHIMA Hiromi, Head of International Strategy Section of International Strategy Organization TANABU Motonari, International Strategy Organization and Special Advisor to the President XU Haoyuan, and International Office Manager NITTA Tomoki attended online.
The event started with a toast speech by Shanghai Alumni Chairman TANGO Eisuke from Shanghai. It followed by an inspiring presentation by President HASEBE about the latest progress and future prospects of YNU from Japan. The alumni were also able to have some online chats with friends. In a friendly atmosphere, a commemorative photo with a big flag of Shanghai Alumni made by them was taken and this marked the end of the alumni event.
Shanghai Alumni have warmly arranged to accept internship students from YNU in these past few years and they are truly an important part on education at YNU to develop global human resources. YNU will continue to enhance international social education and strengthen the relationships with Global Alumni.
Finally, this realization of a dream came true with great efforts of LIU Hua, a secretariat of Shanghai Alumni. We would like to express our gratitude to her. 
- Special thanks to the guest speakers from Fukyukai -
MIYATA Yoshifumi, Councilor
SAKURAGI Seishiro, President
SHIMADA Hiroyuki, Vice President
UEKUSA Keichi, Vice President
YAMAKI Keisuke, Vice President
NAITO Mayumi, Director
KIN Eikei,Director