YNU Alumni Reunion Held in Malaysia
YNU Alumni Reunion Held in Malaysia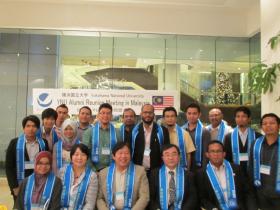 On December 7th, 2012, YNU Alumni reunion was held in Kuala Lumpur, Malaysia. Executive Director and Vice President Shuji Mizoguchi, Vice President Hitoshi Yamada, College of Business Administration Assistant Professor Hisami Andrade, International Division Senior Specialist Hiroshi Inoue, and Student Support Division Officer Tatsuhiro Nagano participated in the reunion.
Alumni and the visitors were talking about their days at YNU, jobs, and their current life in a homelike atmosphere.
College of Economics junior student Masaya Saito, who is now studying at the University of Malaya as an exchange student, also participated in the event and deepened the exchanges.
We hope that the bond among alumni was strengthened and the alumni network in Malaysia further expanded by the event.
The YNU delegation also made a courtesy visit to the University of Malaya on the same morning and exchanged opinions about future activities.