United Nations Development Programme (UNDP) special lecture for the College of Urban Sciences was held in YNU
United Nations Development Programme (UNDP) special lecture for the College of Urban Sciences was held in YNU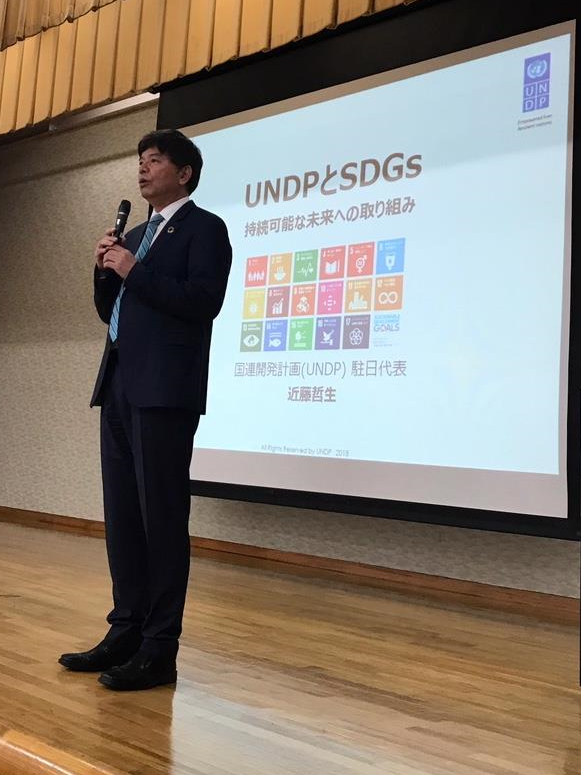 On November 6th (Tue), 2018, United Nations Development Programme (UNDP) special lecture for the College of Urban Sciences titled "UNDP and SDGs -Actions towards sustainable future-" conducted by Director Tetsuo Kondo of UNDP Representation Office in Tokyo was held at University Hall in YNU.
There were about 260 participants, mainly students and faculty members from the College of Urban Sciences.
This lecture was carried out on the basis of agreement between UNDP and YNU.
The lecture was very easy to understand about UNDP efforts and SDGs as Director Kondo explained with his experiences acquired in Chad where he worked on education and human rights of women.
In addition, there was a talk about the relationship between SDGs and academic fields such as City Planning, Disaster Prevention, Risk Management and Innovation which students study in the College of Urban Sciences. It was a valuable opportunity for the students as they could feel closer to SDGs and deepen their understanding related to their own major.
Following the lecture, there was a questions and answers session. The students asked questions one after another which showed that they have a deep interest in SDGs.