Euro-Japan Dialogue 5-year party
Euro-Japan Dialogue 5-year party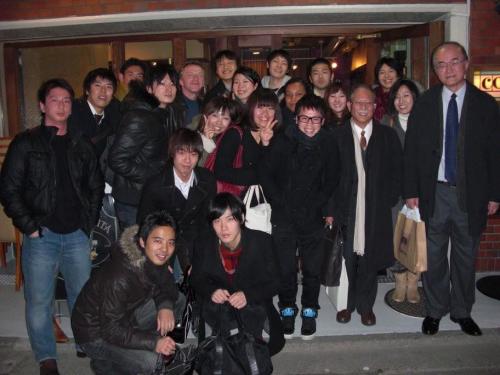 The Faculty of Economics Euro-Japan Dialogue programme recently sent their fifth cohort on a successful one week visit to partner universities in France and the UK. This was followed by a reunion party for all five cohorts on Saturday, January 222nd. Held in an Italian restaurant in Shinagawa, the event was attended by 25 people, with representatives from all five cohorts present. Professor Watanuki, who headed the 2006 and 2007 cohorts, was in attendance. Professor McAulay, programme organizer in 2008, 2009 and 2010 was there, as was Professor Arie, who has contributed support to the programme on various occasions. Since 2006, the program has sent students to carry out on-campus debate and company visits in various European countries, including France, Germany, Wales, England, Italy, Czech Republic and Finland.
At the party, the members shared memories of their interaction with European students, the opportunity the programme afforded them to improve their English and academic skills, and the friendships they still have with their European peers. Professor McAulay commented on the growth of the programme, noting some recent innovations. A three-way debate took place in Paris in November 2010 when Milano-Bicocca University participated. Another new factor is that 19 students applied for 10 places in 2010, the first year that selection has been competitive, a feature that seems certain to continue with the sixth cohort.
The graduates at the party came from a wide variety of jobs, including Chugoku Electric Power, Japan Nuclear Fuel Conversion, Citibank and Itochu. The consensus was that their experience of participating in Euro-Japan Dialogue gave them an advantage when job-hunting. Current job-seekers were of course thrilled to hear this information. It is also an aspect of the programme that the attending professors pledged the university would make efforts to publicise to potential participants in the future.
The chat and camaraderie extended well into the night. The programme created friendships among Europeans and Japanese, but also between YNU students from different years and backgrounds. Students interested in participating in Euro-Japan Dialogue 2011 should watch the Faculty of Economics notice boards at the International Student Lounge for information.