Visit by Jesse H. Jones Leadership Fellows of Texas Southern University to Department of Economics
Visit by Jesse H. Jones Leadership Fellows of Texas Southern University to Department of Economics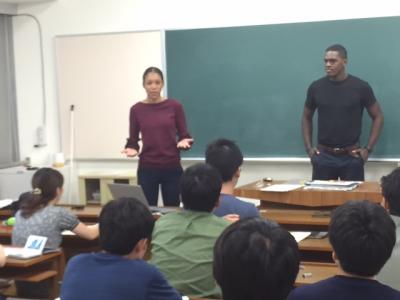 From July 5 to August 2, 2017, the Department of Economics hosted a visit by Professor Claudius B. Claiborne and two students from the Jesse H. Jones School of Business at Texas Southern University (TSU). The visit was a homecoming for Professor Claiborne, who joined Department of Economics as a Fulbright Scholar in 2015. It was also a reunion for the TSU students, who hosted a YNU cohort when GAEF (Global Applied Economics Forum) visited their Houston campus in November, 2016.
During their one-month visit, the TSU cohort explored the issue of 'Japan and Immigration in the 21st Century.' They joined English classes in Department of Economics that were exploring this theme. A key word in the discussion was 'diversity.' The TSU students gave presentations on the diverse nature of Houston, which recently overtook New York City to become America's most ethnically diverse city. The advantages to Houston of diversity, and the challenges involved in managing such a diverse population, were outlined by the TSU students. Lively discussions on comparisons with Japan then followed.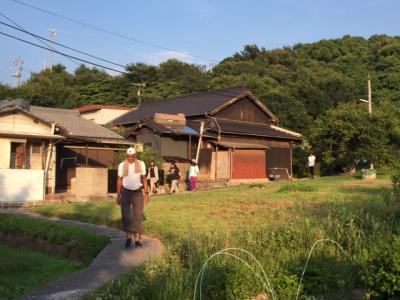 In order to gain a deeper understanding of the effects of aging society and declining birthrate in Japan, the TSU cohort paid a visit to Shiraishi Island in the Seto Inland Sea. The population of the island is steadily decreasing, dropping from just over 1000 in 1998 to below 500 at present. This is emblematic of the problems many remote communities in Japan face. The American visitors joined locals in participating in the Shiraishi Bon Dance, a thousand-year-old festival honoring the returning spirits of ancestors. They could see up-close the efforts the islanders are making to involve youth in maintaining their traditions.
The busy schedule included visits to the Nissan Oppama car factory and Toyota Kaikan in Nagoya, a trip to the Bank of Japan, as well as excursions to Hiroshima Peace Park, Kamakura and an outing to a sumo tournament. The TSU cohort proved an asset in English-language courses and classes on American politics, joining in enthusiastically and sharing their first-hand experience with YNU students. The visit culminated in short video essays reflecting on the themes of diversity, and Japan's future plans for immigration. The TSU cohort left stimulated by their Japan experience, and expressing their hope to return to Japan in the near future.