YNU Traditional Culture Show for International Students 2010-2011
YNU Traditional Culture Show for International Students 2010-2011
Edo Street Performers are coming to YNU!
Traditional Japanese Street Performance by"Asakusa Zatsugeidan "(浅草雑芸団)
Asakusa Zatsugeidan will present traditional Japanese street performance arts such as new year-celebrating "shishimai" dance (獅子舞), "harukoma" dance (春駒), "chindon'ya" marching (チンドン屋), sugar candy selling "ameuri" performance (飴売り) and so on and so forth. Please join!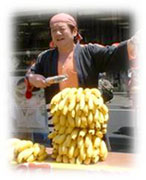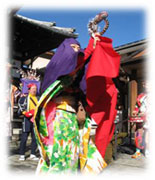 Date
January 19, 2011, Wed 4:30pm-
Place
Kyôiku-bunka Hall (next to Ryugakusei Center)

*No entrance fee! Audience can join the performance!
Special lecture on street performance will be conducted by Prof. Yu Kawazoe, before the show. (*Registration is required for the lecture. Please contact OGAYA)

Special lecture by Prof. Yu Kawazoe "Street Performance Traditions," 
From 3:10 pm. @Rm. 106, International Student Center
Asakusa Zatsugeidan

has been actively collaborating with local communities and universities in all over Japan for the revival of traditional Japanese street performance since 1985. It is the first time to perform at YNU campus.
Inquiry
Organized by International Committee, Faculty of Education and Human Sciences
OGAYA(FEHS) chihooga@ynu.ac.jp