Academic Exchange Agreement with University of Dhaka (Bangladesh)
Academic Exchange Agreement with University of Dhaka (Bangladesh)
On December 17, 2013, Professor WATANABE Masayoshi in the Faculty of Engineering, who visited University of Dhaka (Bangladesh) as representative of YNU President SUZUKI Kunio, and President (Vice Chancellor) of University of Dhaka, Professor Siddique, held a signing ceremony to the academic exchange agreement between the two universities.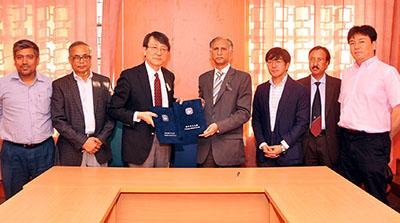 Faculty of Engineering, YNU and Faculty of Science, University of Dhaka signed on an academic exchange between faculties and also student exchange agreement in March, 2005. After that, the two faculties have developed both of academic & student exchanges frequently and successfully. Dean of the Faculty of Science, Professor Mollah, and Professor Susan in Department of Chemistry made a courtesy visit to YNU in October, 2013 to discuss further development of the academic agreement which had been signed between faculties to that between universities. YNU agreed to sign a new agreement between the two universities to hold a signing ceremony at that opportunity.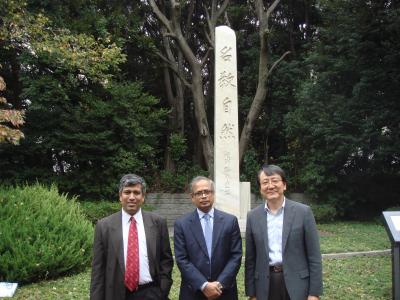 University of Dhaka is a national university to be the most prestigious in Bangladesh, which was established in 1921, the era of British occupation. It is also the largest university in that country with enrollment of approximately 38,000 students, 3,400 teaching & administrative staffs, 71 departments in 12 faculties, 10 institutes, and 38 research centers.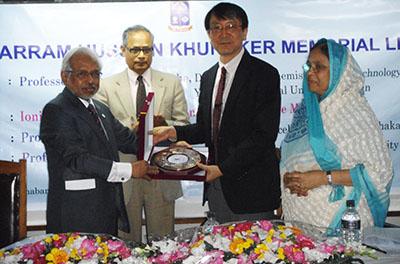 Many people appeared to be pro-Japanese and showed friendship to Japanese people because many of the teaching staffs (more than the half at the Department of Chemistry) have acquired academic degrees in Japanese universities and also Japan is the biggest ODA distributer to Bangladesh. Professor Watanabe and Japanese delegates received the first-class hospitality during their stay. Above mentioned Professor Susan also used to be a student to acquire the academic degree at Graduate School of Engineering, YNU. Many graduate students desire to acquire an academic degree at Japanese universities and colleges. Academic & student exchanges should be encouraged and vitalized in the disciplines of social science as well as those of natural science in the future. Development and enforcement of exchanges in many layer of the two university organizations is also desirable in order for enrollment of excellent students to YNU.