2 YNU alumni awarded the title of honor by the governor of Kentucky, U.S.A
2 YNU alumni awarded the title of honor by the governor of Kentucky, U.S.A
2 YNU alumni, Hidetoshi Kamezaki, and Itaru Tsukagoe, have been awarded Kentucky colonel, the highest title of honor in the state of Kentucky presented by the governor.
A former vice-president of Mitsubishi Corporation, Mr. Kamezaki, who graduated from College of Economics in 1966, is currently a member of the Policy Board of Bank of Japan as well as a member of Japanese committee of the APEC Business Advisory Council. He also works as a Member of Joint Management Council of YNU.
Another recipient is Itaru Tukagoe, who is a certified public accountant of the U.S.A., and currently resides in the state of Kentucky. He graduated from College of Economics in 1968.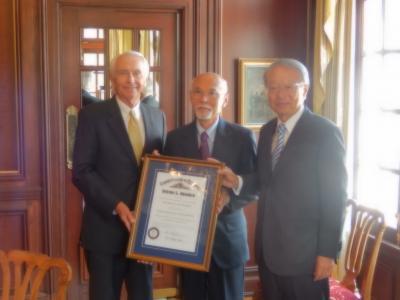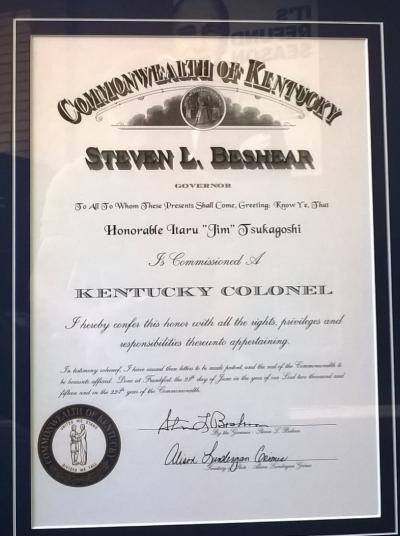 The local community deeply appreciate Mr. Kamezaki's devotion as he has been organizing lectures, and meetings regarding the APEC's activities as well as the Japan-America trade issues for high school students and industry arena in Kentucky. Governor Beshear bestowed the title of honor on Mr. Kamezaki's contribution to economic development in the Pacific Rim nations as a member of the APEC Committee, and to providing useful information for Kentucky residents.
Meanwhile, Mr. Horigoe was awarded for his consulting business management and small businesses in Kentucky ever since 1993. He has been playing an active role in promoting mutual understanding between Japan and the U.S. by providing in-depth information about the U.S. usually not known in Japan.
The title of honor called Kentucky colonel originated from awarding volunteer soldiers who helped America win War of 1812 in the early 19th century. The colonel used to be the highest rank given to civilians in the military, and its tradition had continued for a while. In the 20th century, the award extended its scope to other areas such as politics, economy, culture and sports. Today the Kentucky governor presents the title of honor to people who have made a remarkable achievement, and contribution in various fields.