YNU hosted UNDP seminar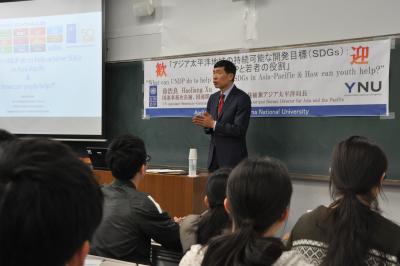 UNDP (United Nations Development Programme) seminar entitled "What can UNDP do to help achieve SDGs in Asia-Pacific & How can youth help?" was held on 22nd of April.
YNU welcomed Mr. Haoliang Xu, UN Assistant Secretary-General, UNDP Assistant Administrator and Bureau Director for Asia and the Pacific with the room full of audience from community, students and international students.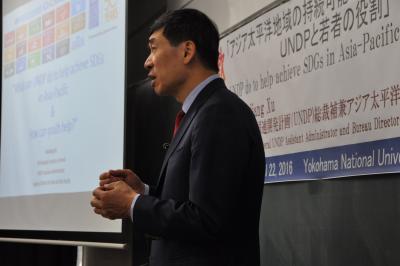 The lecture was focused on importance of young people's energy to help achieve Sustainable Development Goals (SDGs) with detailed examples. It inspired many of the participants and some student commented that he could understand SDGs more deeply, or other said that she would think about what she can do from now on.
It was very fruitful time to have this lecture and it gave us opportunity to think about what and how we can do to achieve the SDGs in Asia-Pacific.