YNU Japanese Language and Culture Summer Program 2017 held
YNU Japanese Language and Culture Summer Program 2017 held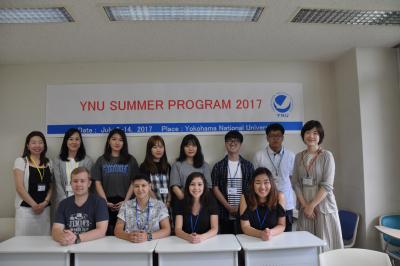 The 2nd YNU Japanese Language and Culture Summer Program was held on campus from July 3 to July 14, 2017. A total of 25 students*, far exceeding last year's number, participated in this 12-day program. Divided into 2 classes according to their Japanese language level, the students attended intensive Japanese language classes in the morning, and received lectures in either English or Japanese regarding topics related to Japanese culture and society during the afternoon .
*The students were from: University of Toronto(Canada), Karoli Gaspar University of the Reformed Church(Hungary), The George Washington University, Southern Oregon University, University of Southern California(U.S.A), United Arab Emirates University(the United Arab Emirates), Hanbat National University(Korea), and Dalian University of Technology (China)
The students also went on excursions to the Ajinomoto Kawasaki Factory, the Japan Open-air Folk House Museum in Kawasaki, the Yokohama Disaster Risk Reduction Learning Center, and Kamakura. On the weekend, each student experienced a short homestay with a Japanese family and had the opportunity to experience daily life in a Japanese household.
On the final day of the program, the students held a poster presentation on the themes such as "Japanese food," "Otaku culture," and "Japanese university students' views on love and marriage." After the presentation, the farewell ceremony was held, at which Executive Director Fumihiko Nakamura awarded a Certificate of Completion to the students. Students who participated in this program stated that they were able to enhance their Japanese language skills and also establish good relationships with the YNU students during the program.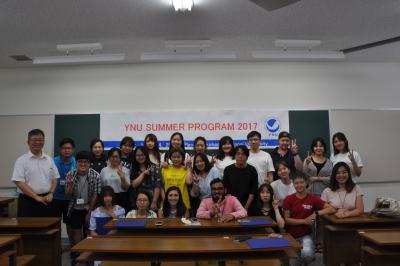 One of the new highlights of this year's program was academic counseling for the participants who were considering taking master's courses at YNU in the near future. Professors in the particular fields that the students were interested in applying to were present and provided the students with academic counseling and valuable advice. This academic counseling was well received by the program participants, and this indicates that this type of summer program might offer a good opportunity for those participants wishing to pursue their graduate studies.
In order to further support the significantly higher number of participants that attended the summer program this year, the YNU volunteer staff and the students in the International Understanding Class reached out and kindly assisted them in situations both on and off campus, including Japanese language learning, traveling between the university and their accommodations, accompanying on excursions, and showing the students around the campus.
Based on the success of this year's program and the increasing number of applications, YNU aims to hold this summer program next year and to continuously increase the opportunities for foreign students to study at YNU.