[Event Report] "BOSAI" Seminar for YNU International Student
[Event Report] "BOSAI" Seminar for YNU International Student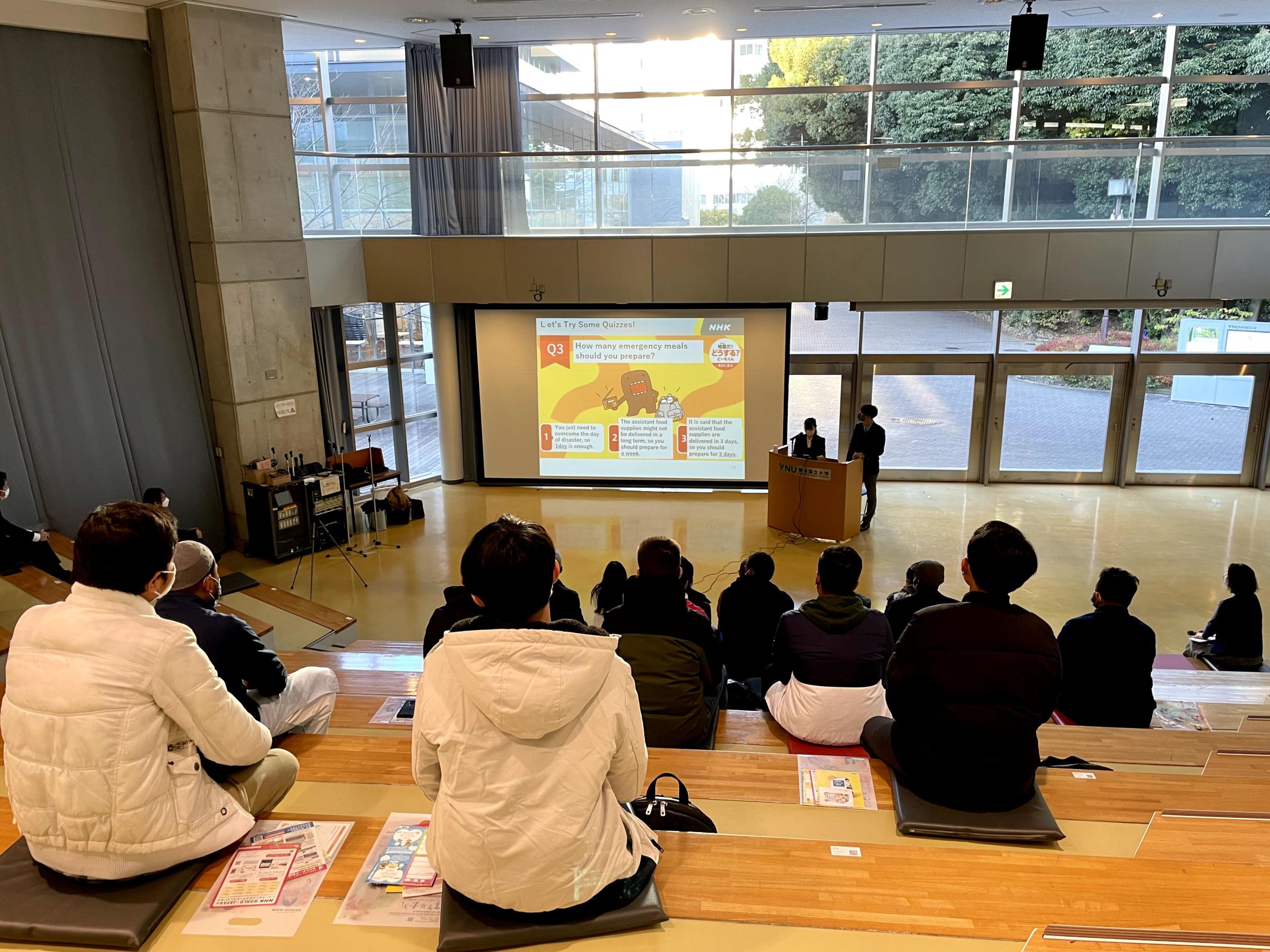 On Wednesday, December 19, 2022, the International Students Section held a seminar on "BOSAI(disaster prevention)" for international students with the cooperation of NHK. Due to its climatic and geographical conditions, Japan is prone to natural disasters such as earthquakes, tsunamis, volcanic eruptions, typhoons, and heavy rains. This seminar was planned to raise awareness of disaster prevention for international students, especially those from countries and regions that do not experience disasters like Japan.
We welcomed Ms. UCHIDA Saika and Mr. IKEDA Hiroshige from NHK as instructors. The presentation included quizzes on what to prepare and what to do in case of a disaster. The participants also looked back on the day of the Great East Japan Earthquake that occurred on March 11, 2011, using news archive footage. The video showed the power and speed of the tsunami, they learned the importance of promptly evacuating to higher ground.
About 20 students attended the seminar. They asked many questions such as "What should I do if a disaster occurs when I am on the train?", "I cannot always carry around emergency supplies, but does the university have enough stockpiles?", and "Do I need to have my passport or residence card when I evacuate?", showing the high interest of international students in this topic.
For foreigners living in Japan, there are issues such as delayed evacuation due to language barriers and lack of information that prevent them from receiving necessary support. In this seminar, NHK introduced its valuable content that provides disaster information in a way that is easier to understand, especially for international students whose mother language is not Japanese.
Participants received emergency supplies from YNU's rolling stockpile.
The International Students Section will continue to hold disaster prevention seminars for international students in conjunction with the new school year, as well as other events to raise awareness of disaster prevention.
For reference
Information about disasters is available in many languages.