[Event Report] YNU Spring Program 2023
[Event Report] YNU Spring Program 2023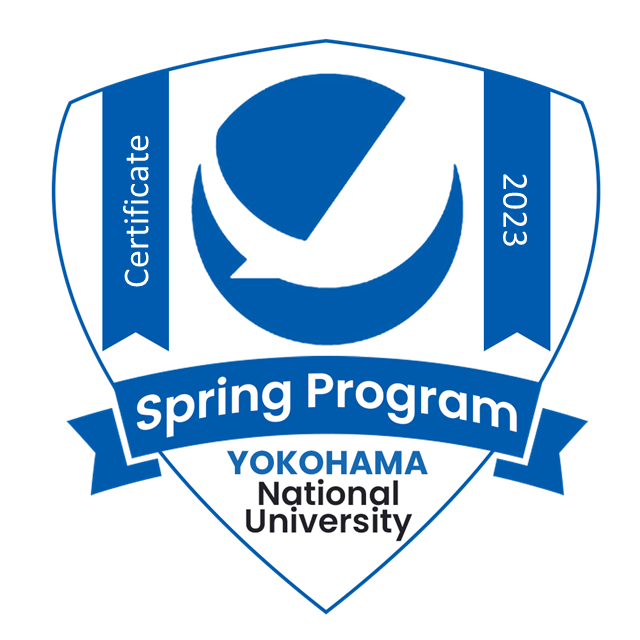 YNU Spring Program 2023
The International Strategy Organization held YNU Spring Program online for three days: December 13, December 20, 2022, and January 10, 2023. This program aims to introduce the educational and research environment of YNU and to convey the attractiveness of Yokohama, Kanagawa, and Japan as living areas for international students from overseas universities. There were 34 participants, mainly university students from our partner universities.
December 13, 2022

At the opening ceremony, Professor Hisashi Matsumoto, the Director of the International Strategy Section of the International Strategy Organization, gave the opening remarks.

Followed by the greeting, Ms. Kumiko Kawachi, the Lecturer of the International Strategy Organization, explained the skills to be acquired in this program. The program started in a friendly atmosphere with ice-breaking time for participants to introduce themselves.

First, Ms. Shiori Sunagawa, who belongs to Student Group 105, and Mr. Seiga Shimizu and Mr. Tsuyoshi Watanabe, who belong to Student Group ISL, introduced student life at YNU and their activities.

After that, Professor Hiroyuki Matsuda of the Faculty of Environment and Information Sciences gave a keynote lecture titled "A new normal between human and biosphere toward the post pandemic - 30 by 30 challenges for nature conservation." Professor Krüsner Gott Miguel of the Faculty of Environment and Information Sciences gave a lecture titled "Planetary boundaries: What are the limits for biodiversity, conservation and sustainable use of natural resources?"

December 20, 2022

On the second day, prior to the main sessions, Admission Guidance was held by Professor Yoshiaki Omori of the Faculty of International Social Sciences and Ms. Ayaka Masuda of the International Students Section, Global Promotion Division.

Then, Mr. Yutaka Itadani and Ms. Zarina Badavamova from the Aeon Environmental Foundation gave a lecture titled "Thirty years of activities towards a sustainable future."

Finally, Mr. Haruto Irie, a third-year student in the College of Urban Sciences, gave a presentation on the theme of "Social communication for creating a better future Sustainability trends in education and business in Japan."

In addition, two on-demand programs were provided: "Introduction to Japanese culture" by Associate Professor Kenji Hasegawa of the International Strategy Organization and "Job Hunting for International Students in Japan" by Ms. Yuki Iida of the International Planning Section, Global Promotion Division. The "Introduction to Japanese Culture" included three themes: Jomon/Yayoi period, court nobles/samurai, and Shinto/Buddhism. The "Job Hunting in Japan for International Students" introduced the situation of job hunting in Japan for international students and career support at YNU.



January 10, 2023
For the final day's presentations, each group selected a product or service and rebranded it as an environmentally friendly and sustainable product. After the presentations, there were a question-and-answer session and critiques by the faculty members.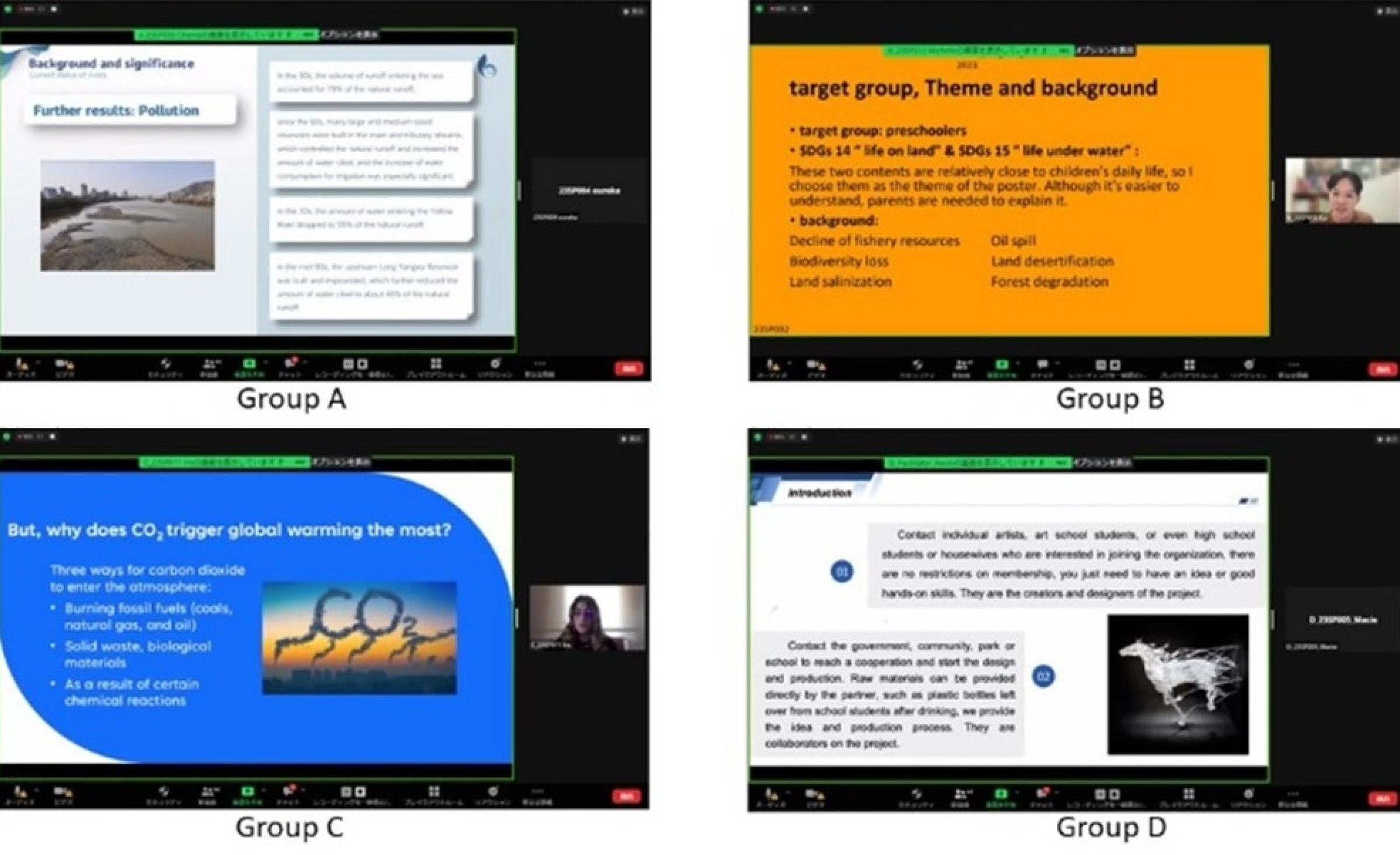 With the closing remarks by Professor Hiromi Kabashima, the Director of the International Strategy Organization, and Professor Matsumoto, the Spring Program 2023 ended successfully.
After the closing ceremony, a "Virtual Tour to Japan" by the KSGG (Kanagawa Systematized Goodwill Guide) club was held. The participants were divided into six groups and enjoyed the tour around Kamakura while having interactive conversations with two guides.
Of the students who participated in this three-day program, 31 qualified for the Open Badge (digital certificate), which is issued as proof of proficiency in this program.
YNU Spring Program started online in 2020 due to the spread of COVID-19. However, it was a good opportunity to obtain a new international collaboration for post-coronavirus and a new way to implement an online education program for overseas university students.
Through this program, we hope to increase the number of international students seeking admission to Yokohama National University.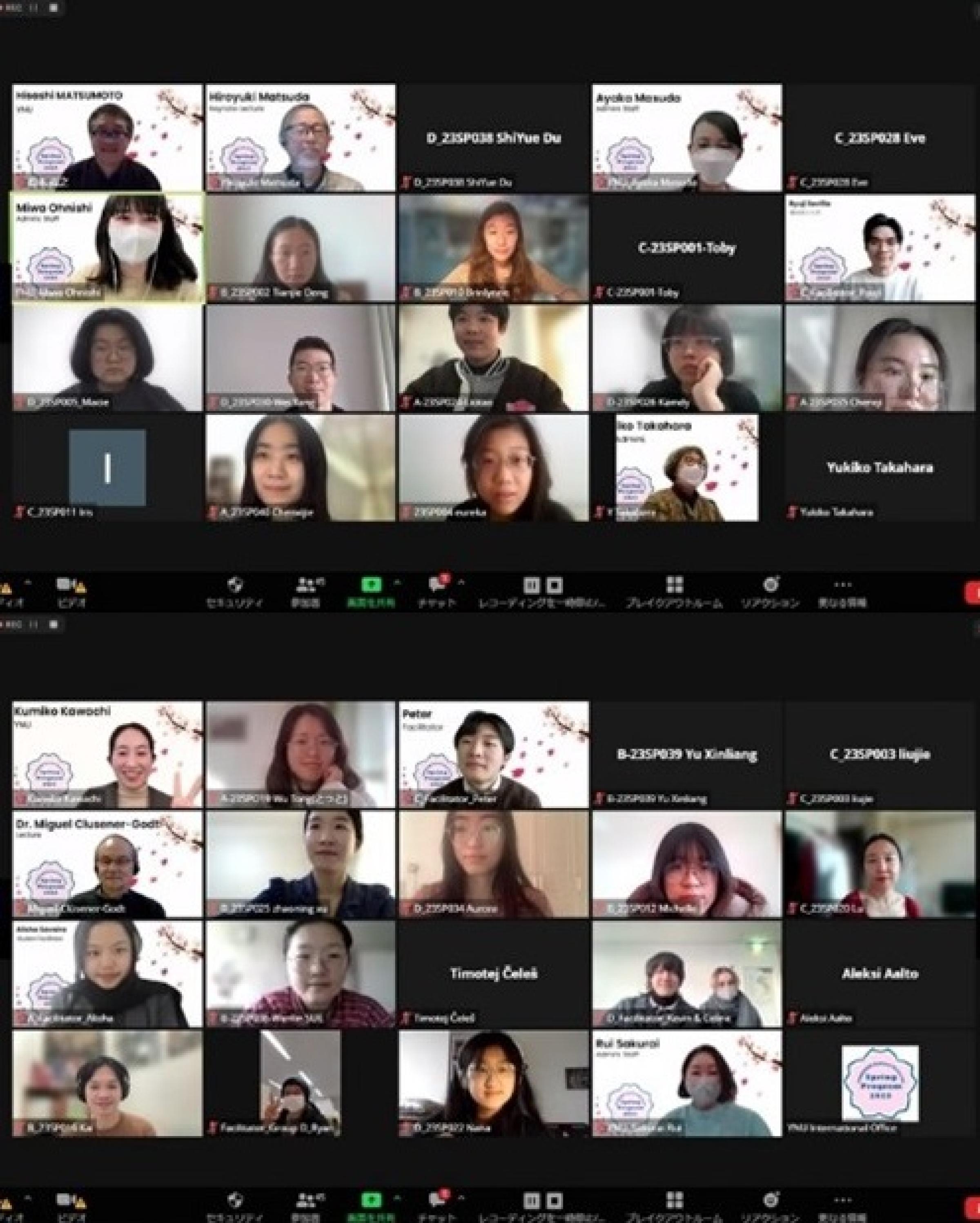 Participating Universities: 18 from Shandong University, 8 from Beijing Normal University, 2 from East China Normal University, 1 each from Tongji University and Beijing Forestry University (China), 2 from Ozyegin University (Turkey), 1 from Vietnam-Japan University (Vietnam), 1 from the University of Malaya (Malaysia)