Kakehashi Project Visit from UC San Diego, U.S.A.
Kakehashi Project Visit from UC San Diego, U.S.A.
On Monday, January 16, 2023, ten students from the University of California, San Diego (UC San Diego) and two JICE representatives visited YNU as part of the Kakehashi Project – FOIP (Free and Open Indo-Pacific).
The Kakehashi Project is a grassroots exchange program funded by the Japanese government. It aims to strengthen Japan's diplomatic presence through mutual exchange, nurturing global citizens who are proficient in cross-cultural communication and who will lead in the future, and help promote understanding of various aspects of Japan such as politics, economy, society, culture, history, and foreign policy.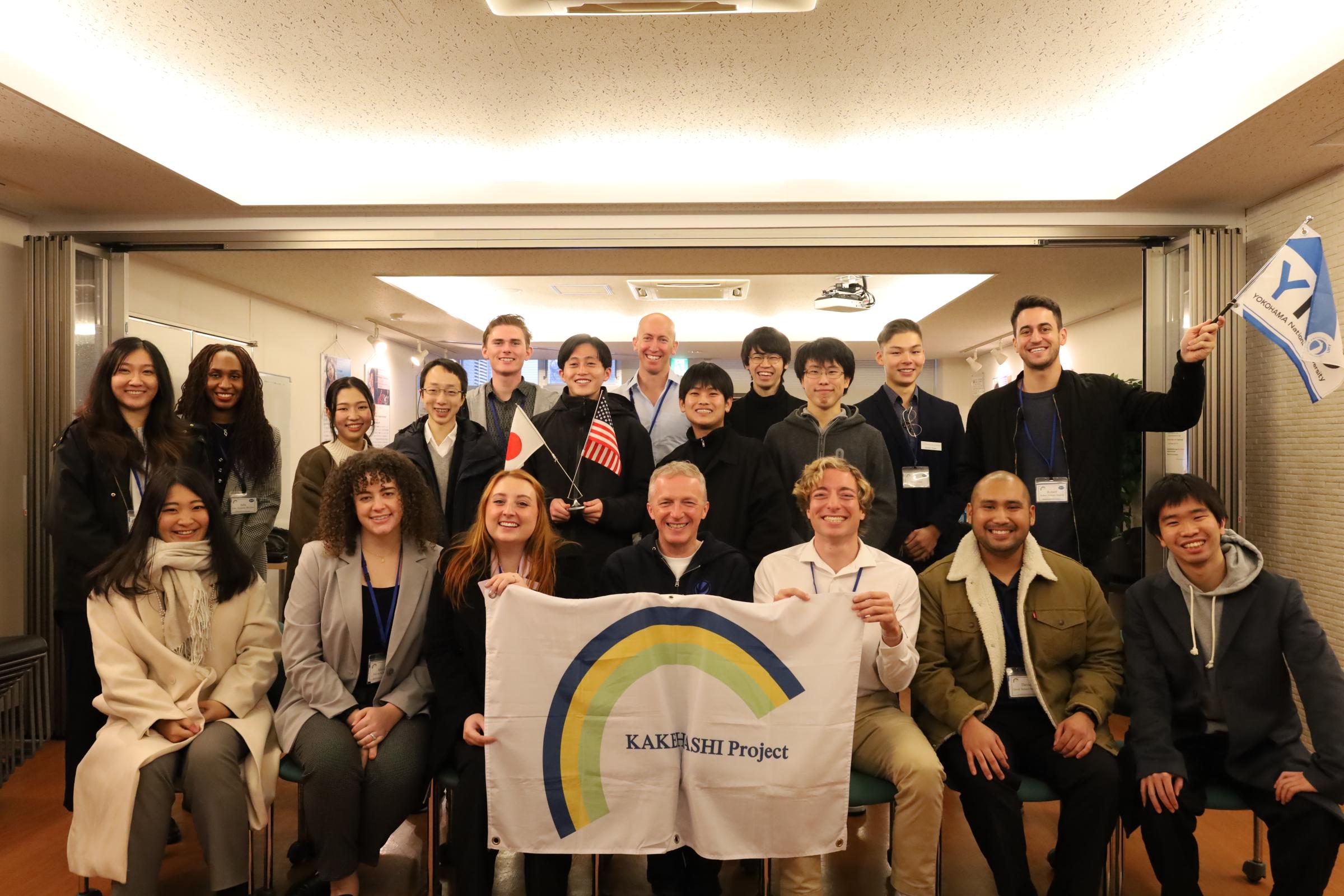 The participating students were given some insight into Japanese culture though a lecture entitled "Japanese Cinema: National and Transnational Aspects" given by Professor Alexander McAulay of the International Graduate School of Social Sciences. With eight YNU students also taking part, the lecture included a creative exchange of ideas on screenwriting 'Japan' in cinema, and group discussion on how globalization currents might affect the representation of Japan and the Japanese in world cinema. The students quickly became comfortable with each other and exchanged opinions about the cultures of the two countries, discussing Japanese movies and directors that they were interested in. Each group presented an original premise for a film set in Japan, and critiqued their ideas using concepts introduced by Professor McAulay, such as 'orientalism' and 'the male gaze' in cinema.

The session concluded with an expression of thanks from Mr. Zachary Stephen Belgum of UC San Diego, who also reflected on the learning points on behalf of the visiting students. Afterwards, everyone took a commemorative photo with Professor McAulay and the event came to a close with a fond farewell.

The exchange was an opportunity for the UC San Diego students to learn more about Japanese culture and Japanese universities, and for the UC San Diego and YNU students to learn from each other about the U.S. and Japan. We hope the visit will lead to further exchange in the future.