The Inter-University Exchange Project, joint international symposium: YOKOHAMA International Education Program for Leading Sustainability Transformation towards a Resilient Society with Industry-Government-Academia Network (YOKOHAMA-SXIP)
The Inter-University Exchange Project, joint international symposium: YOKOHAMA International Education Program for Leading Sustainability Transformation towards a Resilient Society with Industry-Government-Academia Network (YOKOHAMA-SXIP)
Yokohama National University held the YNU International Symposium 2022, "Sustainability Transformation to a Resilient Society" on December 21 and 22, 2022. It took place at the Media Hall of Yokohama National University Library. Partner school faculty first visited President UMEHARA Izuru and attended the symposium in the afternoon.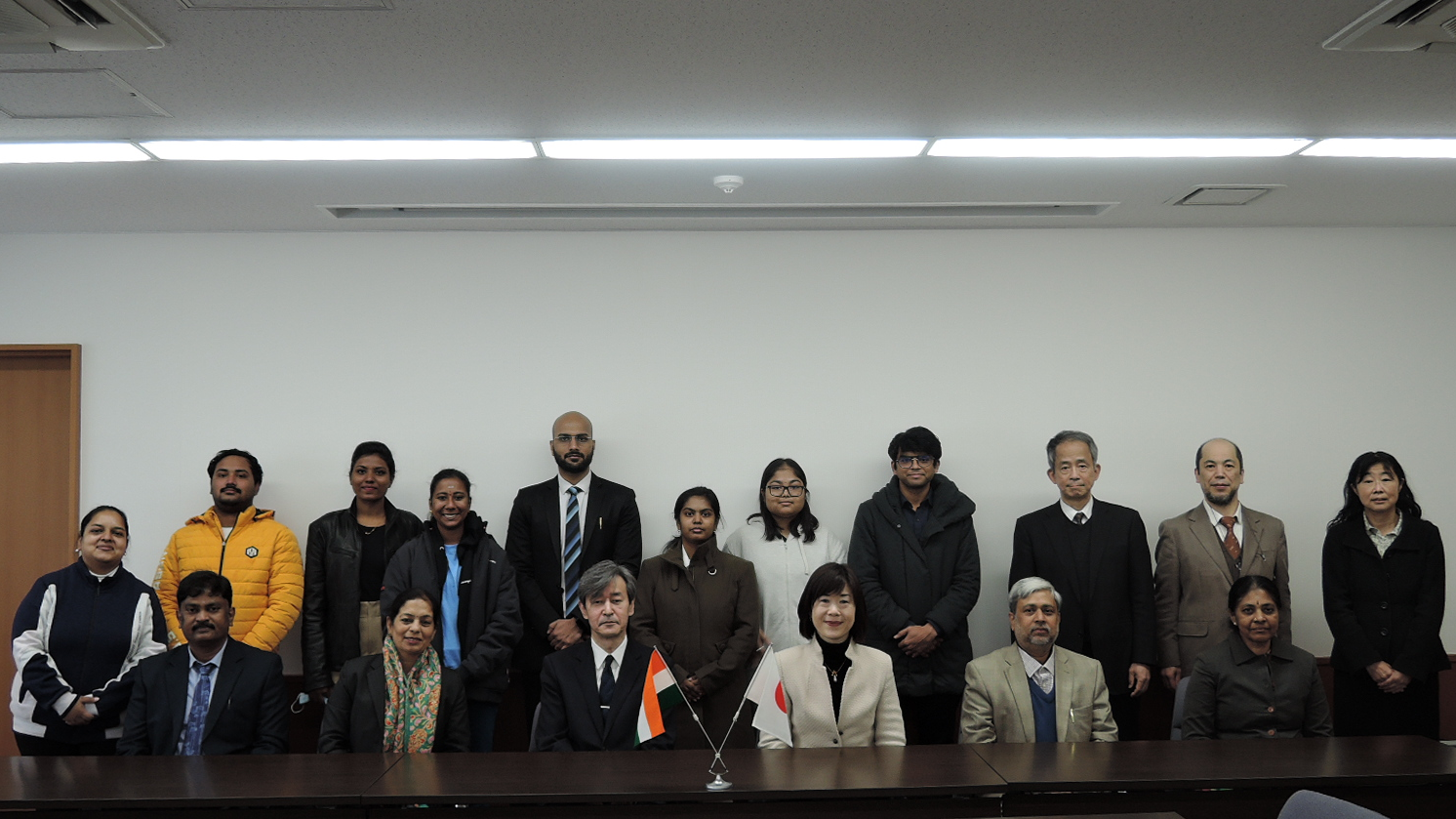 Following the opening speech by this program's Planning and Steering Committee Chairperson, Assoc. Prof. NAKAMURA Kazuho, Vice President for Global Affairs, Prof. KABASHIMA Hiromi, Dean of Faculty of Engineering, Prof. UMEZAWA Osamu and Dean of College of Engineering Science, Prof. SANADA Kazushi, stated their greetings.
The following members from partner universities of India, Australia and Ethiopia, gave lectures. From India, Prof. Meenakshi Sevagamoorthy from Anna University, Prof. Bishakh Bhattacharya and Mr. Kanhaiya Lal Chaurasiya from Indian Institute of Technology Kanpur, Prof. Anupama Kaushik Sharma from Panjab University, Prof. L. Muruganandam and Prof. Aruna Singh from Vellore Institute of Technology. From Australia, Prof. Robert Hales from Griffith University and Assoc. Prof. Jiabao Yi from The University of Newcastle. From Ethiopia, Assoc. Prof. S Anuradha Jabasingh and Assoc. Prof. Shimelis Kebede Kassahun from Addis Ababa Institute of Technology, Ethiopia.
Lectures by the faculty members of YNU, Assoc. Prof. Nakamura, Prof. Maeda, Prof. Arakawa, Prof. Yoshitake, Assoc. Prof. Ito and Assoc. Prof. Iijima, were delivered, too.
The results of group work by partner university students and YNU students were presented both in person and online.

The theme of this symposium was Sustainability Transformation towards a Resilient Society. On the first day, there were lectures on research results from professional perspectives. On the second day, there were presentations by participating students on their international co-curricular studies and poster presentations by students from overseas. A lively question-and-answer session followed on the theme.
The symposium, which lasted about 10 hours in two days, closed with great success.