[Event report] Oulu Online Collaboration Program 2023
[Event report] Oulu Online Collaboration Program 2023
Oulu Online Collaboration 2023 took place for five days from March 20th to 24th. The program was organized by Yokohama National University(YNU) and coordinated by the University of Oulu. There were 31 students from three different universities, YNU, Shizuoka University and the University of Oulu. The program has been designed with the aim to create valuable intercultural experiences since the first launch in 2021 and been evolving every year reflecting students' feedback. This year we highlighted collaborative learning where students learn about each other's countries from their lived experiences. Through many discussions and groupworks with Finnish students, we hope students gained the realistic picture of Finnish education and society. The students were from various faculties and some of them were international students from China, Vietnam and Indonesia. It was amazing to see how students from different universities and diverse backgrounds collaboratively create space for intercultural and interdisciplinary learning, and we believe such diversities enriched everybody's learning experiences.
March 20, 2023
The first day began with a brief introduction to Finland. Besides a small Kahoot quiz about cultural practices in Finland, we talked about the country's education system, history and welfare system. In the second part, we had our first meeting with students from the University of Oulu, and the students worked on group activity where they discussed Japanese and Finnish culture by introducing proverbs and expressions unique to each country. Some Finnish students choose a word "Sisu" that is considered to describe the Finnish national character as having a stoic determination, tenacity, resilience. Meanwhile, Japanese students introduced expressions, for example "Honne to Tatemae" and "Mottainai," explaining what those expressions can reveal about Japan.
March 21, 2023
On the second day, we discussed one of the strengths of Finnish education, equity and equality. Students worked on different questions, for example "who are minorities in your country and how they are performing at school?" After a break, we had a great opportunity to have a virtual school visit to Finnish high school in Alajärvi. Local students first showed us around their school and after that, students went to breakout rooms and shared their experiences at schools and discussed differences and similarities in student's life between Japan and Finland.
March 22, 2023
On the third day, we had a fascinating guest lecture on education and democracy by professor Iju from YNU. Professor Iju introduced a Nordic country's shared belief in the role of education. In those countries, school is considered as a mirror of society and a place to how to live together with different others. His lecture got us to rethink relationship between school and society and moreover, "what is really education for" beyond the view that school is a place to develop individual abilities. After the class, we invited two YNU students who are currently studying at the University of Oulu and listened to their experiences as an exchange student.
March 23&24, 2023
Fourth day started with the Happiness Report and discussed why Finland has been the happiest country in the world. After that, students reflected in a group what Japan could learn from Finland. In the second half, we took a closer look at Japanese and Finnish culture using Hofstede's cultural dimensions. The aim of the activity was to explore deep culture of the cultural iceberg such as values, beliefs, attitudes of countries. For instance, when we discussed how people are treated differently depending on social standing, we learned that student- teacher relationship is flat, and students can call teachers by their first name in Finland. On the last day, we wrapped up the program by answering open questions and having a small after party with casual discussions and games which was a lot of fun.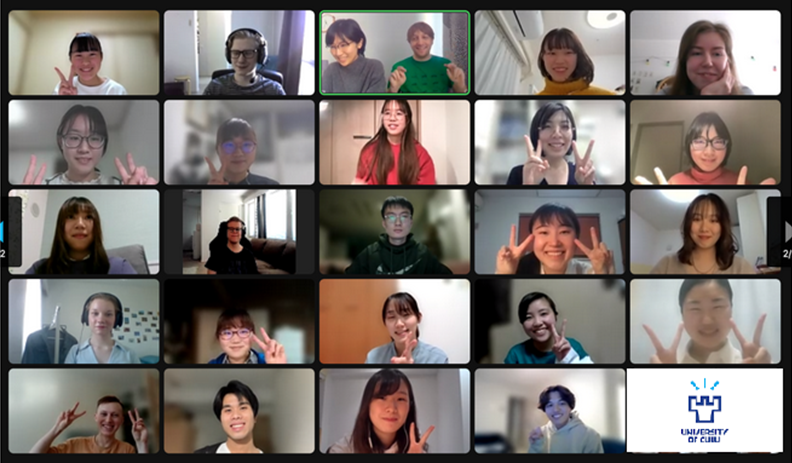 Participants' feedback
Overall, we received very positive feedback and students gave the program an average of 4.5 points out of 5 points. We also got positive feedback from our Finnish students who told us that they really enjoyed talking with the students from YNU and Shizuoka University. Emmi, the teacher at the Finnish high school we visited also told us that her students were very nervous before our class but ended up really enjoying and taking an active part in the conversations. This was great feedback to hear because mutual learning or both Finnish and Japanese students was one of the biggest goals in our program. For our students, the interaction with Finnish students was also the most valuable learning experience and a main highlight of the program: "It was a fascinating experience for me to meet students from the Oulu University because I've had little information of Finland education and its national culture before I'm in this program, so I'm glad to meet all guys and to exchange a lot of information."
We were happy to see that students also reflected on their own cultural background through discussions and groupwork as this quote from a student shows: "I learned a lot of things, not only about Finland but also about Japan. I became more interested in social issues and education issues." Another student made a similar experience claiming that the program made her think about "different way of thinking and value."
Lastly, our feedback survey also showed that many students gained more confidence in speaking in English and got more interested in other countries and cultures. Based on their experiences during the program, they also offered some great tips for talking with international students in the future such as " don´t be afraid to make mistakes", "relax and just start talking" and "be positive." One student summed it up perfectly saying that "You don´t have to speak perfectly. It´s more important to express your thoughts."

We are very thankful to everyone who supported us and to the students for their active participation!
What comes next
We really enjoyed the program and were very happy to hear that the students did as well. Therefore, we would like to stay in touch and organize a YNU-Oulu virtual student circle in which we will have monthly meetings to discuss different topics such as education and culture, have casual conversations and play some games together. We also invite the Finnish students who joined the program and hope that the student circle can become a great place to practice English and intercultural communication skills in a fun and casual environment. Everybody is welcome to join and if you are interested in joining the student circle, please write an e-mail to ynu-oulu-staff@ynu.ac.jp