The 5th Euro-Japan English Dialogue Held
The 5th Euro-Japan English Dialogue Held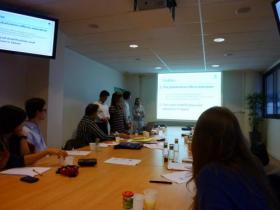 The Faculty of Economics conducted the Fifth Euro-Japan English Dialogue at University Paris Est Créteil (UPEC) in France and Bournemouth University (BU) in England from November 7 to November 13, 2010. With the aim of improving English in an academic setting, promoting international exchange and sparking participants' interest in economics, the program has been registered as one of Topic-Based Project Seminar Courses offered in the academic year 2010.
A great many students expressed their desire to participate this year, with 10 Econonimcs students passing the selection process and went on the program. Professor Alexander McAulay and Lecturer Keiko Ishiwata joined the group as leaders. Together with Prof. McAulay the participants prepared for Dialogue from June to November, right up to the time of departure. The topics of the Dialogue included "Education Styles: Are There Economic Consequences?" (UPEC) and "Is Immigration an Effective Measure to Combat Labour Shortages?" (BU).
At UPEC, Università degli Studi di Milano-Bicocca of Italy also joined, making the event a tripartite dialogue that lasted for two days. At BU, YNU students were able to attend Professor Allan Webster's lecture on immigration and labor market prior to the Dialogue. As well, lively exchange of questions and discussions took place during the program at BU. The day after the Dialogue, YNU students visited JP Morgan together with BU students.
As with every year, we were able to have opportunities to mingle with students at the host institutions to our heart's content. Presentations that YNU students gave were greeted with great applause. Both the Dialogue and the friendship-building sessions became all the more worthy thanks to the hard work of the students and we were able to achieve the goals. A debriefing session is scheduled for December 16.