"Workshop on Donning Yukata" Held at Loughborough University, England
"Workshop on Donning Yukata" Held at Loughborough University, England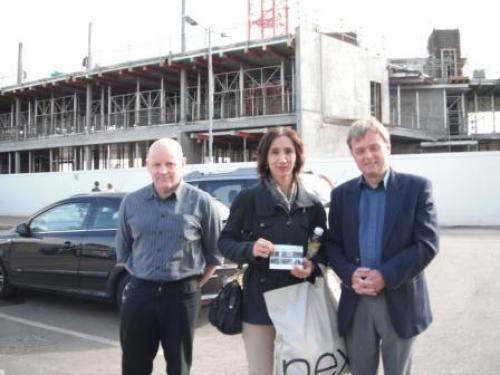 Research on Classes Geared for Working Adults

In preparation for teaching actual classes overseas, Professor Satsumoto traveled to Loughborough, England in 2009 and, with the help of joint-researcher Dr. Zanker of Design & Technology Department, Loughborough University, conducted a questionnaire survey on local university students and working adults covering the following topics:
1) traditional Japanese culture
2) hands-on experience donning yukata by using a new instructional video in English
3) evaluation of the video on donning/folding yukata
4) feedback on wearing comfort.
Here is a video link to the yukata donning workshop:
Latest news from Loughborough University

Yukata Donning Workshop Held for Middle-Schoolers Using Instructional DVD in English
In 2010, Professor Satsumoto was introduced to Ms. Stephens, a participant in the 2009 Workshop at Loughborough University (she was then a Master's student at the Graduate School for In-Service Teachers) by Dr. Zanker. Thanks to her help, Professor Satsumoto conducted a yukata worksop at Blessed Robert Sutton School in Burton on Trent, where he teaches, for a class with 15-year olds (35 students) and another with 11-year olds (20 students) using an instructional, English-language DVD. Burton on Trent is about 50 minutes' drive from Loughborough.
Once clad in yukata, the British middle schoolers became just as excited as the Japanese middle schoolers, ending up heartily enjoying the workshop.
It is expected that hands-on workshops like this one involving donning of yukata in a middle school, along with survey results, will contribute to promoting understanding of Japan and furthering cultural exchange.
Developing educational programs that allow for showcasing the traditional clothing culture of kimono overseas in a cultural exchange context fully aligns with the intent of the New Curriculum Guidelines and thus is expected to contribute to international cultural exchange.