YNU Professor Delivers Speech as Guest Speaker at Zhejiang Shuren University, China
YNU Professor Delivers Speech as Guest Speaker at Zhejiang Shuren University, China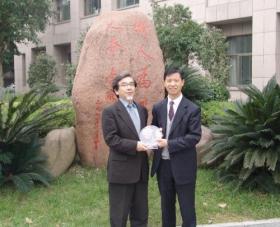 Professor Takao Nishimura of Faculty of Education and Human Sciences was invited by Zhejiang Shuren University Institute of Modern Service in Hangzhou, Zhejiang Province to give a speech entitled "Contemporary Consumer Issues and Policy Responses: Japan's Case."
Zhenjiang Shuren University was the first private university to open after economic reforms started in 1978, and is now home to 15,000 students in 10 academic departments, with 1.5 million books in the library system.
In his speech, Professor Nishimura talked about how Japan came to establish Consumers Affairs Agency last year by putting safety and security of living at the top of its policy agenda, the current state of affairs in and government responses to food safety issues, product liabilities and transactional damages, and the need to educate consumer citizens that urges consumer independence. Students showed a great deal of interest. Professor Nishimura delivered a similar speech at Shanghai University the following day.