Opening Ceremony Held for Two AY2010 Programs: the International Center's 2nd-Semester "Preliminary Japanese Language Training" and Pre-Enrollment Undergraduate Refresher Program
Opening Ceremony Held for Two AY2010 Programs: the International Center's 2nd-Semester "Preliminary Japanese Language Training" and Pre-Enrollment Undergraduate Refresher Program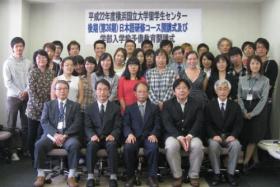 A joint opening ceremony for the latter-Semester (36th semester) Preliminary Japanese Language Training and Pre-Enrollment Undergraduate Refresher Program was held at the International Student Center on October 6, 2010. Director of the Center Daisuke Arie, Vice President Shuji Mizoguchi (overseeing the training) and other teachers and staff attended the ceremony.
Nine foreign students – two research students and seven teacher trainees – were accepted into the Japanese program and seven pre-enrollment students (under Japan-Korea Joint Science & Engineering Student Exchange Program) into the refresher program.
Director Arie gave a welcoming pep speech, followed by a self-introduction by students in each program and the faculty and staff that were present in either Japanese, Korean or English.
For the following six months students in Japanese Training will learn the language to a degree that is necessary to engage in research in graduate school and conduct daily life, while students in refresher programs will learn Japanese and take supplementary classes in English, math, physics, chemistry and biology before they are ready to enroll in the Department of Engineering come April, 2011