The 5th YNU Homecoming Day Held
The 5th YNU Homecoming Day Held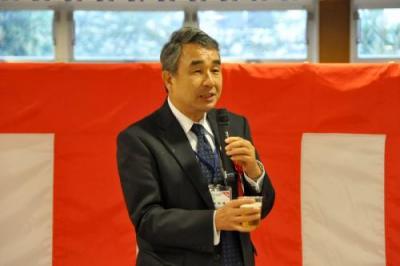 On October 30, 2010, the 5th Annual YNU Homecoming Day took place braving bad weather with an approaching typhoon. A large number of people participated in events and a networking get-together from morning.
This year, YNU graduate and vice president of the now restructured and burgeoning Shanghai Jiao Tong University (tremendous responsibility!), Chen Gang, gave a keynote speech, and alumni and teachers who are active around the world also gave talks. Foreign alumni joined the event for the first time. YNU's momentum to embrace the world was amply evident to impress everyone.
Due to rainy weather, the sports event had to be canceled but there were plenty of other attractions to keep the alumni engaged: "Briefing on the Entrance Exam" for those wishing to enroll at YNU, "Campus Tour" to see the facilities, "Homecoming Day Concert" by current Glee Club members and graduates, "Panel Exhibition" and more.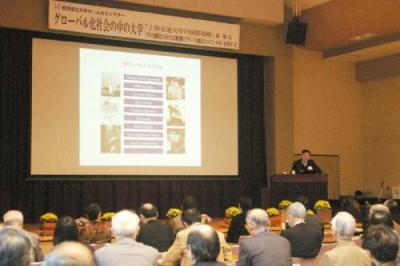 At the networking gathering, chief organizer Watanabe made an opening remark, which was followed by ethnic dances by foreign students, performance by Minken Folk Singers and singing by the Glee Club. A group of alumni sitting in a circle was spotted belting out the student song "Miharukasu." Though the gathering was short, everybody enjoyed the time with their old buddies.
The gathering came to a close while the excitement was still unabated as this year's organizer, Mr. Inoue, representing the union of alumni organizations of the School of Engineering, handed the responsibility to Mr. Kaneko, president of Yushokai, the alumni organization of Faculty of Education and Human Sciences.
The YNU Homecoming Day, being in its fifth year, has established itself as YNU's annual event and will continue to grow. It is expected that the alumni organizations, faculty and staff, students and local community will come together to make the event even more attractive from next year on.