Signing of Inter-University Exchange Agreement with USP; Commemorative Joint Seminar
Signing of Inter-University Exchange Agreement with USP; Commemorative Joint Seminar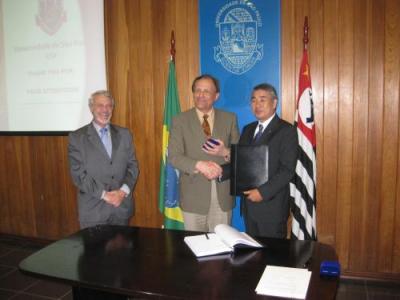 On September 16, 2010, a Signing Ceremony for Academic Exchange Agreement between YNU and University of Sao Paulo took place at the latter university, in where the Agreement was signed by USP President Joao Grandino Rodas and YNU President Kunio Suzuki.
Since an agreement was signed with USP back in 1983, our relationship has steadily grown with faculty/student exchanges and the opening of the liaison office. In order to further advance our relationship, it was deemed necessary that a new agreement be signed. Osamu Ishihara, Dean of the Faculty of Engineering, and Takayuki Kuribayashi, Chief of the International Planning Section (the International Division), attended the ceremony representing YNU.
In commemoration of this event, a joint USP-YNU seminar was held the following day (9/17), where, after introduction of each university, special lectures were given by Professor Makoto Arai and Associate Professor Yoshiki Nishi, both of Faculty of Engineering. About 100 people attended the seminar, ranging from USP students and staff to YNU alumni to members of the Kanagawa Prefectural Association.
The seminar was concluded with a speech by USP Professor Toshi-ichi Tachibana (Honorary Doctor, YNU) who marked the occasion by sharing his experience as a student at YNU and his vision of future USP-YNU relationship as well as Brazil-Japan relationshp.
Check the Album Report for more details on this visit to USP:
http://www.kokusai-senryaku.ynu.ac.jp/album.html