YNU China Mission Visits Beijing, Tianjin, Dalian and Shanghai
YNU China Mission Visits Beijing, Tianjin, Dalian and Shanghai
A mission led by Vice President Hitoshi Yamada and another mission led by Executive Director (International Affairs) Kazuhisa Matsuoka departed for Beijing and Dalian, respectively, on November 2, 2010.

The Beijing mission visited Tsinghua University, Beijing Normal University, Tianjin University and other places, had meetings with faculty and staff at each institution to discuss furthering friendship going forward and held briefings on YNU's plans to accept students coming on the "Chinese Government Graduate Student Overseas Study Program."

The Dalian mission engaged in similar activities at Dalian University of Technology, then both missions traveled to Shanghai on November 4 to join together to do the same at East China Normal University and Shanghai Jiao Tong University, while also hosting a YNU Day and giving various mock lectures.

Both missions' activities at each institution are described below.
More photos of the mission have been uploaded to the Album Report pages of the International Strategy Office:☞http://www.kokusai-senryaku.ynu.ac.jp/album.html#china201011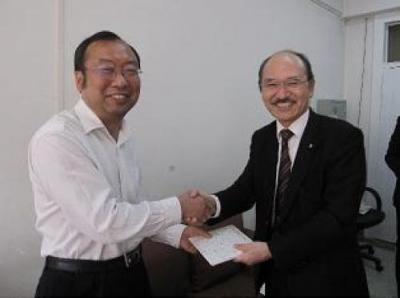 Beijing Normal University
The mission led by Professor Osamu Ishihara, Dean of the Faculty of Engineering, arrived in Beijing International Airport on November 2 and with no moment to lose visited Beijing Normal University, their first institutional destination. They were greeted by Xin-Heng Guo, Assistant Dean of
the College of Nuclear Science & Technology and in the following meeting, views were exchanged regarding the current state of science and engineering departments and their issues. Both sides agreed to promote exchange in science and engineering that had been weak before.
The following day, on November 3, Vice President Hitoshi Yamada led the mission to meet with Vice President Ling Sun. Vice President Yamada made a statement, "We're looking at our cooperative agreement on the long haul. You plant seeds, give water and fertilizers, then leaves start to unfurl and flowers bloom. We need to join our efforts to develop human resources." Vice President Sun responded by saying, "It is my desire to see our quality relationship keep up." It was agreed that a process to renew the Academic Exchange Agreement between YNU and UST that expires in December of this year be started.
Almost 30 graduate and undergraduate students came to a briefing on the merit-based "High Level Program" geared for students on the Chinese Government Graduate Student Overseas Study Program. Vice President Yamada gave a general overview of YNU, which was followed by Program briefings by Professor Yuichi Hasebe (Faculty of Economics), Professor Midori Kizaki (Faculty of Economics) and Dean Ishihara (Graduate School of Engineering), to which participants seemed to listen intently relating their specializations with the YNU teaching staff listed. When briefings touched on locational advantages of Yokohama within the Tokyo Metropolitan Area and China Town, the atmosphere relaxed.
About 20 undergraduate and graduate students of College of Resources Science and Technology (CRST) came to Professor Hasebe's mock lecture, where even after the class was over some students continued to ask questions indicating their high level of interest. In the evening, a banquet was held at CRST. Including Professor Fu ZHU who has a degree from YNU Graduate School of Engineering, some that joined the banquet waxed nostalgic about YNU campus and enlivened the conversation over the table.
On November 4, Professors Hasebe and Kizaki visited Beijing Normal University Network Center and had a meeting where setting up a remote lecture system between the two schools was discussed.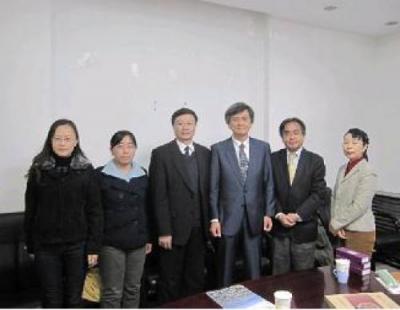 Tsinghua University
On November 3, Professors Hasebe, Kizaki and Miyatake (International Student Center) visited Tsinghua University and met with Professor Lisheng LUO, Director of International Exchange. When the three visitors requested publicity of the "Hi-Level Program" at YNU, as, e.g., on their website, the request was immediately agreed to. As to the lack of a memorandum of agreement on short-term student exchanges between YNU and Tsinghua University, it was agreed that both universities will actively pursue conclusion of same going forward.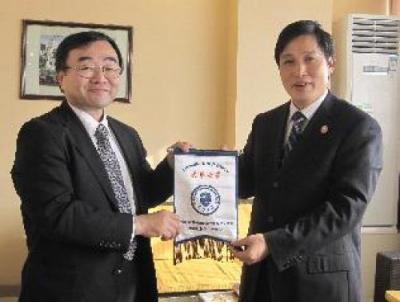 Tianjin University
On November 4, Vice President Yamada and Professor Miyatake paid a visit to Tianjin University. It took only 28 minutes from Beijing to Tianjin by the most advanced bullet train with a speed of 330 km/hr. Vice President Denghua ZHONG who greeted us said in a welcoming remark, "I hope to see exchanges on multiple fronts and at all levels, from undergraduate students to graduate students to faculty members, become more active." More than 20 students came to the briefing in English of the "High-Level Program" and asked questions such as "May I contact a YNU professor right away?" "I'm going to go to a graduate school next year. Can I apply?" and "What kind of places do students live in?"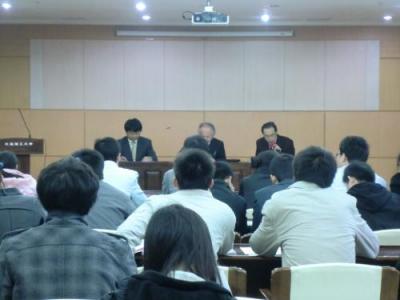 Dalian University of Technology
On November 3, a 7-member YNU mission comprised of Executive Director Matsuoka who acted as leader, Dean Makoto Arima (Graduate School of Environment and Information Sciences) and other faculty and staff members paid a visit to Dalian University of Technology.
The delegation met with Prof. Gui-Ling Ning, the Vice President of the Dalian University of Technology, and other graduate students and representatives of the School of Software Technology to discuss specific exchange plans going forward. This was later followed by a briefing on Chinese Government Graduate Student Overseas Study Program in front of some 50 students. Questions followed one after another, such as "How can we get in touch with the professors?" "How much does room and board cost?" indicating a high level of interest in our institution.
This visit proved quite fruitful, as several proposals were made and agreed to, including: DUT is capable and willing to offer summer seminars and other short programs specifically geared to YNU; YNU Graduate School of Environment and Information Sciences will start offering classes for the School of Software Technology via a bi-directional hi-definition remote lecturing system starting mid-November; using the same system Japanese language classes will be taught by the International Student Center on a trial basis.
On the night of November 2, a mini reunion was held in Dalian where four YNU alumni got together.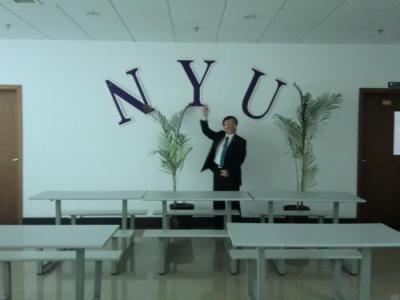 East China Normal University
On November 4, a YNU mission comprising 10 members led by Vice President Yamada paid a visit to East China Normal University, where they met with Vice President Jing LU and other officials.
There is an on-going active exchange relationship between YNU and ECNU where the International Graduate School of Social Sciences (Accounting and Management System) and the MBA, the Graduate School of Environment and Information Sciences and the e-Education System Engineering Research Center have each signed a Memorandum of Understanding based on an Inter-University Exchange Agreement and are offering classes to each other's students, exchanging students and conducting joint research projects. It was agreed to expand the relationship furthermore going forward.
At an event called "YNU Day," Vice President Yamada briefed ECNU students about YNU and the Chinese Government Graduate Student Overseas Study Program, while five other YNU faculty members that went on the mission gave mock classes at their corresponding departments, leaving a positive impression of YNU.
On November 5, more wide-ranging, substantial interfacing activities took place involving the Faculty of Education staff and the Japanese Language Faculty of the International Student Center, as well as the Faculty of Economics staff with its research/educational interest.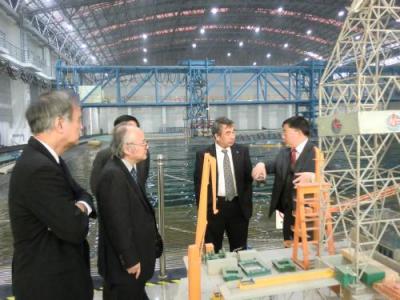 Shanghai Jiao Tong University
On November 8, a YNU mission comprising 9 members led by President Suzuki paid a visit to Shanghai Jiao Tong University.
The relationship between SJTU and YNU dates back to 1982 when two schools became partner universities. Credit to this relationship, Vice President Chen Gang, Professor Ning MA, Researcher Xuefeng WANG and many other teachers here earned their degrees and studied at YNU. During this visit, Vice President Chen and two other YNU alumni teachers escorted us attending to our smallest needs.
A meeting with President Zhang Jie and other officials produced big results, culminating in decisions such as: Student- and librarian exchange to begin on 1-week to 10-day short programs; SJTU will host the 2011 Meeting of the Port-City University League (YNU serves as secretariat); and more.
Here, too, an event called "YNU Day" was held, where President Suzuki personally introduced YNU to SJTU students. Later, in a briefing session, he explained about the Chinese Government Graduate Student Overseas Study Program, while six other YNU faculty members each gave a mock lecture in their corresponding departments, leaving an indelible impression of YNU.
On the morning of the day of departure back to Japan, the delegation toured student dormitories and other places accompanied by Vice President Cheng. The dormitory building was divided into male dorm and female dorm and each room was shared by several students. Everybody seemed to keep the room clean due to a daily room inspection. In front of the dormitory building was a monument representing the school symbol with the inscription, 飲水思源, meaning "whenever you drink water, think of the well (or those who dug the well)." This, we were told, is the school motto, teaching the students to repay their indebtedness to those who cared for them.
YNU alumni at SJTU, it seemed, embodied and enacted this motto.