2010 China Mission Report Out and A Gyoza Party
2010 China Mission Report Out and A Gyoza Party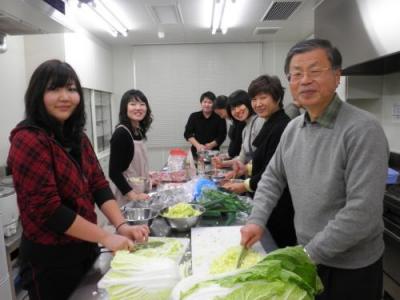 2010 was a year YNU actively pursued exchange with China. In their afterglow, as if to drop the other shoe, three groups that traveled to china – one that took Chinese classes at Shanxi University starting September 6th, one that held dialogues with people in cities along the Chang Jiang (Wuxi, Yangzhou, Wuhan and Shanghai) starting September 13th, and one that toured the Shanghai Expo at the invitation of the All-China Youth Federation October 27th-30th – convened to report about their own activities on December 16 in the Multipurpose Hall of the Tokiwadai Community House that sits directly opposite the West Gate of YNU campus.
This day's get-together doubled as the now yearly (since last year) gyoza party thrown by Professor Tadayoshi Murata and his advisees (Faculty of Education and Human Sciences), which started with kneading the flour to make gyoza skin like a real chef. Four visiting scholars from Taiyuan University of Technology (a 3 months program started in September) provided guidance as to how to make gyoza.
Mr.Huigin HAO, who has studied at YNU for one year as an exchange student from Beijing Normal University (Currently the Director of Translation at Peple China Press, visiting YNU on a 2-months training program) also participated.
The three groups each reported on their activities in China and reminisced about many a joyous moment getting to know people there, while savoring the delicious gyoza they made themselves.
From the faculty side two members, Professor Murata and Associate Professor Yu Chen, both of Faculty of Education and Human Sciences, joined the event and encouraged everyone by saying, "Let's continue and do more of these exchanges with China. To that end, make sure to learn Chinese!"