Japan Education Fair and a Reunion in Vietnam
Japan Education Fair and a Reunion in Vietnam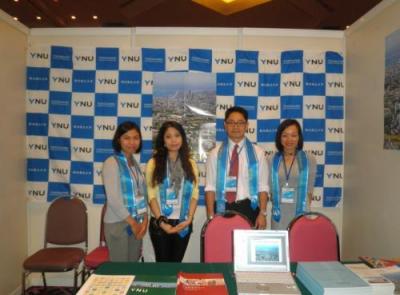 "The Japan Education Fair in Vietnam," sponsored by Japan Student Services Organization (JASSO), took place in Hanoi on November 20th and in Ho Chi-minh City on November 21th. From YNU, Assistant Professor Kenji Hasegawa and Ms. Kana Yamamoto, a financial support section staff (Student Support Division), participated.
In both venues some 70 organizations put out their booths and about 60 visitors came to our booth in Hanoi and about 100 in Ho Chi-minh, to whom we introduced YNU and fielded a number of questions that were asked about the undergraduate and graduate entrance exams, life in Japan, scholarships, tuitions, and so on.
Most of the students who came to YNU booth were college students, high school students and students taking Japanese, but there were a few working adults who were interested in Japanese companies and management and were contemplating studying in Japan. With more Japanese companies expanding their operation into Vietnam, interest in Japan seems to be on the rise in the last few years. Civil engineering, indispensable in making infrastructure, ranked high among areas of study that attracted students' interest, as if to reflect the economic development that is picking up speed in Vietnam. It was very impressive to see energetic young people trying to ask questions in Japanese.
A great number of both undergraduate and graduate students showed interest in studying in Japan this year, a testament to a high degree of interest in Japanese universities, society and technology. It was quite rewarding an occasion for us to be able to introduce YNU directly to those students.
On November 18, an alumni reunion was held in Hanoi, too, where approximately 20 people turned up and meaningful exchange took place such as stories from their collage days and their current jobs.