YNU Attended 2011 Japan Education Fair in Indonesia
YNU Attended 2011 Japan Education Fair in Indonesia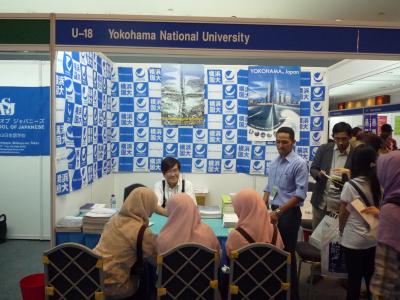 YNU exhibited "Japan Educational Fair 2011" organized by Japan Student Service Organization (JASSO) took place in Surabaya on October 8th and in Jakarta on October 9th.
This Fair was designed to provide Indonesian students and educators with up-to-date and correct information about the Japanese higher education and research by the participating institutions and organizations in order to help the students select an appropriate school and achieve their academic pursuits, thereby promoting study in Japan.
There were 1,478 visitors in Surabaya and 1,640 in Jakarta, of whom about 200 and 300 came to YNU's booth in Surabaya and in Jakarta, respectively. They were all very eager to get information about admissions, campus life, scholarships and so on. We hope that these potential applicants will choose to come to YNU in the future.