YNU Participated in Japan Education Fair in Malaysia
YNU Participated in Japan Education Fair in Malaysia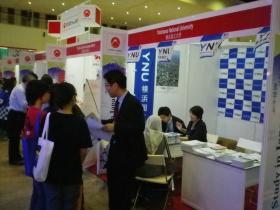 On December 8th and 9th, 2012, YNU participated in Facon Education Fair at Putra World Trade Center in Kuala Lumpur, Malaysia. From YNU, Executive Director of Education Shuji Mizoguchi, Vice President Hitoshi Yamada, College of Business Administration Assistant Professor Hisami Andrade, International Division Senior Specialist Hiroshi Inoue, and Student Support Division Officer Tatsuhiro Nagano attended the fair and opened a booth.
In the two days, the booths of Japanese universities had 2,796 visitors in total (1,627 on the first day and 1,169 on the second), and YNU welcomed 176 visitors (96 on the first day and 80 on the second).
Some students even came with their parents and spent a long time asking many questions. We could see that they were seriously thinking about studying in Japan. Most of the students were fluent in English, and many were interested in an all-English undergraduate program YOKOHAMA Creative-City Studies Program and the newly starting graduate program of the Department of Economics both of which are starting from October, 2013.