27 Students from Universiti Sains Malaysia Visited YNU
27 Students from Universiti Sains Malaysia Visited YNU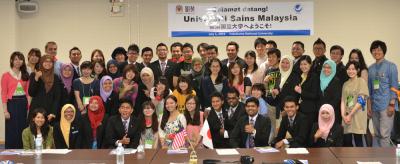 On Friday, July 5, 2013, YNU welcomed 27 students and 2 officers from its partner university, Universiti Sains Malaysia (USM).

After greetings by YNU Deputy Executive Director for International Affairs Professor Ichiro Araki and USM Student Affairs and Development Division Director Dr Nazaruddin Zainun, two YNU Student International Volunteers, Ms Yang Huan and Ms Xu Ting (both from Graduate School of Environment and Information Sciences), made a presentation to introduce YNU. They not only explained the outline of the university but also history of Yokohama and student life at YNU. All the USM students were listening to their presentation very eagerly.

After the presentation, 30 YNU students joined the USM students, and listened to an introduction to USM and Student Representative Council. The students then separated into five groups and had discussions, lunch and campus tour within the groups. Although it was short time visit, they all seemed to have enjoyed their time together as the USM students were leaning out of their bus to wave their hands at the departure from YNU.

With this visit as a start, the two universities have opened up a discussion for concluding the memorandum of understanding on student exchange. It is expected that the relationship between USM and YNU will be further strengthened in the future.